Op-Ed: Why Georgia's U.S. Senate Runoff Vote Is A Defining Moment In American History
Rev. Raphael Warnock makes his closing argument before the crucial election.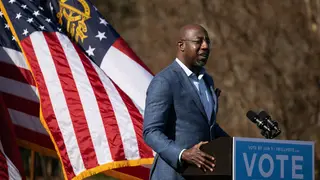 The Jan. 5 Georgia runoff election for U.S. Senate has come down to the wire. Democrats Rev. Raphael Warnock and Jon Ossoff are contending with incumbent Republicans senators Kelly Loeffler and David Perdue. The result will determine who controls the body. In this op-ed, Warnock is making the case for his platform and why it is important.
--
We say all the time that elections have consequences. But after this year, that feels like a gross understatement. As we mourn the over 300,000 souls who have perished, our American sisters and brothers, we have learned, tragically, that elections are a matter of life and death. And so, we must vote this year, not pretending like our lives depend on it, but because they actually do.
We have to vote for our neighbors and the folks we call essential workers even though we're not paying them an essential wage. We have to vote for our children and their future. We have to vote for access to affordable health care. We have to vote for the planet because it's the only home we have to leave our children.
This has been a dark and difficult year. But before us is the privilege of choosing a path in one of those extraordinary American moments when a generation of Americans gets to rise up and reclaim the truth of the American creed, E Pluribus Unum, out of many, one. In this moment, there are many who seek to divide us. Folks who have no vision traffic in division. But we cannot afford to be divided. We must reinvest in the truth of our shared destiny. That's why I'm running for U.S. Senate. Because in my bones and in my gut and in my heart, I believe in this grand and uniquely American dream that we are tied together, and that what affects one of us affects us all.
That interconnectedness, like the consequences of an election, has never been more clear than during this pandemic. If nothing else, COVID-19 has reminded us that we are closer together in our humanity than we think. I need my neighbor's health to be insured, because their health coverage protects me too, and not just my neighbors. As I travel the state, I need every person in the community to have access to health care.
But all too often, the communities I visit don't have affordable access to health care, either because a nearby hospital has closed or because people lack the insurance to pay for the treatment they need. Because Georgia refused to expand Medicaid in this state, half a million Georgians have been left in the Medicaid gap and nine rural hospitals have closed.
The broken politics of division practiced by my opponent and the lack of access to health care in the communities I visit are not separate issues. They are two sides of the same coin, both rooted in the idea that health and human dignity are things that some deserve and others don't. Why else would you try to take away health care from people with pre-existing conditions in the middle of a pandemic, or oppose unemployment insurance for working families, if you didn't believe that those families were undeserving of basic protections?
My beliefs on the shared American dream and the necessity of health care are as simple as scripture. "Love your neighbor as yourself." That principle, and everything it carries with it, is what is at stake in this election.
So let's stand up in this defining moment in American history for our neighbors and for ourselves. We need affordable healthcare. We need to pass the John Lewis Voting Rights Act. We need to make sure that folks we call essential workers get paid an essential wage. We need to extend Pell Grants so that our children, when they graduate from college, can have a future that isn't mortgaged. We need to connect the people of our state by investing in infrastructure and broadband.
I have spent my whole life dedicated to service, in the understanding that we are all tied together in one single garment of destiny, in the knowledge that we all share in the beloved community. That's why I'm running for the Senate. We need a leader from Georgia who believes in the shared American Dream and will fight for its possibility for all people. It would be the honor of a lifetime to be that leader. So, I'm asking you to help elect Jon Ossoff and myself on Jan. 5, because our people can't wait another day for change to come. 
Rev. Raphael Warnock, is a Democratic candidate for U.S. Senate in Georgia and Senior Pastor of Atlanta's Ebenezer Baptist Church.