Rihanna Helped 'Make Up' For The Beauty Industry's Shortcomings
The cosmetics industry will never be the same.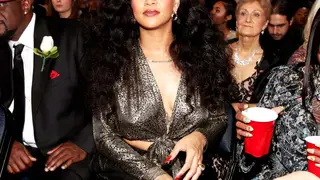 It's arguably an understatement to deem the current beauty market as "oversaturated." Only a select few seem to make it to the masses with a cleverly crafted marketing strategy and a reliable following to achieve the needed level of success to make it to the big leagues. Rihanna, however, didn't need a carefully and complexly crafted marketing plan to make it to the top with the introduction of her long-awaiting beauty line, Fenty Beauty. In fact, all she needed to do was listen to her fans to achieve the monstrous level of success she now has, and that's just what she did.
It can all be so simple. After listening to the cries of women of color, everywhere, who complained about the colorist standards of beauty showed by the current market, RihRih obliged and created 40 shades of foundation in her line, ranging from the fairest of the fair to the deepest of the deep. With this wide spectrum of representation, the bad girl of pop garnered the respect of both her peers in beauty and her consumers. Because of this, we salute Rihanna and include her in our annual Black History Month celebration, "The Great 28."