[Watch] Here's the Controversial Reason This High School Senior With Over 1 Million in Scholarships Was Banned From Her Prom
Taiylar Ball won't be censored.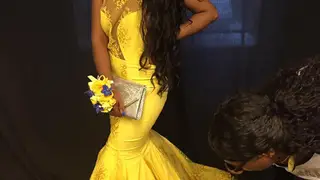 A Chicago-area honor student at Homewood Flossmoor High School, Taiylar Ball, was denied her the right to attend her senior prom because she used the n-word in a spoken word poem she titled "Dear Black Girls" at her school's talent show.
While the dance has come and gone, fellow students are still questioning the legitimacy of the school's concern. It's not all bad, though. According to Ball's Instagram, the National Honor Society member and future pre-med student at Florida Agricultural and Mechanical University still got dolled up and enjoyed her big night.
Ball was banned from her prom because of her choice of language in her poem. Bell explained that her use of the n-word was meant to "empower the Black race" and "combat stereotypes that people have about Black people." In a school, that according to the 2014-2015 Illionis Report Card, is made up of 66 percent Black students, this kind of message should have been accepted with open arms. 
This was the portion of the poem that led to Ball's ban. "My complexion is beautiful you see, look at me… You will never understand how it feels to walk this Earth as a Black woman… You only feeling me when my chocolate skin is shining with coconut oil flexing with t*ts out on Twitter… Dear Black girls your mind is filled with self hate, and emotion but let me tell you brown girl, you are one of a kind… love yourself cus they don't… there is power in your melanin… Dear Black man, brothers, n***a? Kim K wearing you like an accessory, be conscious Black man," she said.
Jetmag spoke to her fellow students who applauded Ball for her talent and bravery.
"It was riveting," said classmate Anthony Davis, "Especially in a day and age where young Black women feel that they are less than, and that is perpetuated time and time again."
Ball was upset that she missed what she called, "A Cinderella thing." Adding, "You think about it when you're young, you wait for it and for it to be taken away from you, it's very hurtful, especially from your school who you love so much."
One of Ball's close friends, Blaire Brown, voiced her anger over the fact that her bestie was going to be able to attend the dance. "I feel like she's done too much for her to be punished for something as petty as using the n-word in her spoken word," Brown said. "She didn't use it to discourage anybody or put anyone down. It was very uplifting."
Taiylar said herself that the poem seemed to have a positive impact on everyone except for the school's principal. She even shared an email correspondence she had with the school principal in which she defended her words and actions.
Ball was not able to change the principal's decisions, but that did not stop her from showing up to the pre-prom picture-taking ceremony with her friends, smiling and showing off in the dress that she said cost over $1,000.
Ball added that she confronted her principal at the actual event after taking pictures, but he had not changed his stance, but told her that they could discuss whether or not the young woman could attend her own graduation.
The principal's misguided approach to punishment seems to cross a line of fair punishment, but Ball isn't letting it get her down, and is looking bravely into her promising future.