Takeoff's Alleged Killer Has Been Indicted For Murder
Patrick Xavier Clark allegedly shot the Migos rapper during an altercation.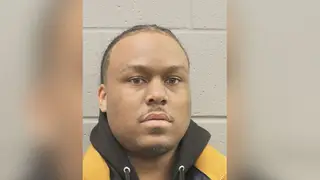 Patrick Xavier Clark, the suspect arrested late last year for shooting and killing Takeoff, has been indicted by a Texas grand jury.
According to PEOPLE, the Harris County District Attorney's Office on Thursday (May 25) stated that Clark had applied for an expedited passport with plans of going to Mexico shortly after the shooting occurred. Authorities ended up taking him into custody before he could flee.
Takeoff was shot in the head and back outside a Houston bowling alley on November 1, 2023 as more than 30 people were leaving a private party.
Local station KPRC reported that prosecutors have video evidence of Clark pointing and firing a gun toward a group of people. Investigators found his fingerprints on a wine bottle that Clark left at the scene. The police arrested Clark on December 1.
According to Houston police officials, a dispute over a dice game preceded at least two people opening fire around 2:30 a.m. The suburban Atlanta rapper, born Kirsnick Khari Ball, was an innocent bystander. It's unclear if Clark, a DJ, and Takeoff knew each other.
Clark's bond was initially set at $2 million, however a judge lowered it to $1 million at the request of Clark's defense. He was released from jail after posting bond on January 14 and has been free until he was taken into custody on Thursday.