EPA Determines Water In Jackson Is Safe To Drink
The city has been struggling with a water crisis.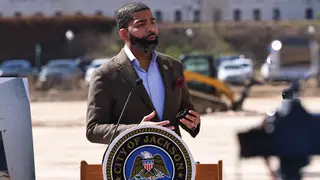 Nearly two months after Environmental Protection Agency (EPA) Administrator Michael Regan met with Jackson, Miss. officials about the water crisis, the city is now in compliance with the Safe Drinking Water act.
According to the Clarion Ledger, Mayor Chokwe Antar Lumumba said during a Monday (Oct. 31) press conference, "That was certainly welcome news by the EPA. The EPA, in conjunction with the Mississippi Department of Health performed a series of tests on our drinking water over the last several months are in and revealed that our water is, in fact, safe to drink." However, the lead and copper results will not be ready until mid-November.
On Oct. 28, Mississippi Governor Tate Reeves extended the state of emergency order for Jackson until Nov. 22. Mayor Lumumba said about the extension of the state of emergency order: "We appreciate that the governor has extended the state of emergency through Nov. 22. Our goal is to have a contract in place by Nov. 17. It is an aggressive goal and we are working to make that happen. In the meantime, we are working closely with the Department of Justice and the EPA to ensure our water treatment facility continues to function."
Due to the flooding of the Pearl River, more than 150,000 people were without safe drinking water. Jackson is 82.5 percent Black, and one out of every 3.5 Jackson residents lives below the poverty line. While President Joe Biden signed a historic Infrastructure Bill to assist areas like Jackson, Republican state lawmakers, like many red states with predominantly Black cities, decide where Mississippi's funds go, and Black areas are often ignored.