Nicki Minaj and Beyoncé Turn Up in Music Video For 'Feeling Myself'
The clip premiered exclusively on Tidal.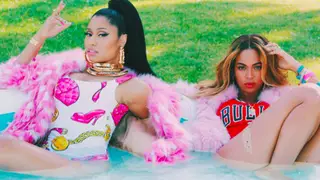 Stop the presses! Nicki Minaj and Beyoncé just dropped a monster. The queen of rap teamed up with Queen Bey for the epically gangsta summer-themed music video for their Pinkprint collaboration "Feeling Myself."
In the clip, which premiered exclusively on Tidal — sorry, non-subscribers — Nicki and Bey combined their South Side, Jamaica and Third Ward swags for a day of partying. This isn't your average turn up, though. The dynamic duo, who took over a house in Indio, Calif., during Coachella, swam in a kiddie pool, danced with the song's producer at a house party — hey, HitBoy! — and "rode through Texas" with their girls in the desert.
The best scenes, however, were the moments when the collaborators were alone, flossing in sexy black 'fits against a car hood, making funny faces and partying backstage at Coachella. Then there was that pause in the video where Bey asked for a piece of Nicki's Bubblicious bubble gum. The exchange is hilarious.
So grab your bucket hats and water guns, and watch the video here.