Moms Praise Khloe Kardashian's Honesty About Not Being Able To Breastfeed
Her reason for taking baby True off the boob is very common.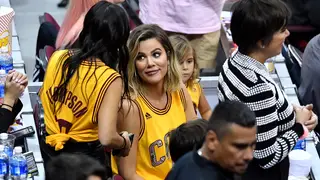 Khloe Kardashian is making headlines for doing what she does best — being relatable AF. The 33-year-old reality star is being praised by moms everywhere after opening up about her difficulties breastfeeding 2-month-old daughter True Thompson on her website.
She revealed that she has to supplement True's breastfeeding with formula because her body can't produce enough milk. "Because I don't produce enough milk, I also have to give a bottle with every feeding," Khloe wrote.
"With the formula I use, I have to give True the bottle within 30 minutes of making it, so it's amazing to have this machine make it for me…It's super easy to use — and fast, so when I'm exhausted and can't even keep my eyes open in the middle of the night, it's a total lifesaver."
Although the blog post was shamelessly promoting a baby formula mixing machine, her message to moms was not lost. "Mommy shaming is real!" she tweeted at a fan who thanked her for her honesty.
"But the truth is I've tried and tried and tried to breast feed only and it wasn't working for me. I feel fortunate that I am able to still breast-feed but with the help of formula. Breast-feeding is something I really wanted to do. Just am not fully able," she continued.
The post opened up a positive dialogue among moms about breastfeeding on Twitter, and by the amount of responses, Khloe's situation seems actually very common.
Are you here for the Khloe's getting candid about nursing?