Toya Johnson Treats Her BAE Robert Rushing To A Spa Day And A Romantic Trip To Utah For His Birthday!
See the couple's day of relaxation and rejuvenation!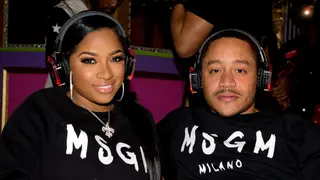 Toya Johnson treated her BAE Robert 'Red' Rushing to a day of relaxation and rejuvenation for his birthday! Below, see how the pair enjoyed all the amenities of a winter wonderland.
On Wednesday (Dec. 15), the reality star posted a day-in-the-life style video showing all the ways she catered to her man for his big day. "Happy Birthday Baby! I hope you enjoyed your relaxing day," she captioned footage on Instagram.
In the video, Robert is seen enjoying the all perks of a winter vacation with his leading lady. Amongst the highlights of the day included spa treatments, lounging by the fire, feasting on a breakfast made for champions, and enjoying a steak dinner at Prime Steak House & Piano Bar in Park City, UT.
While in Utah, the pair enjoyed a day of skiing before snapping a few photos in the fresh snow. "You gave me shoulders to lean on, arms to feel safe in and realness to last a lifetime and for that I'm forever grateful," she captioned a carousel of photos on Instagram. "Happy birthday my love! Cheers to another amazing year around the sun!"
The pair even enjoyed a romantic dip in a jacuzzi. Keep scrolling to see another recap from the romantic affair!
We love to see it! We are happy to see the couple were able to take a break from everyday life and enjoy alone time together. Happy Birthday, Robert!