Chance the Rapper Admits Turning Down Deals From Kanye West Was 'Not Easy at All'
He didn't want to say no to 'Ye but...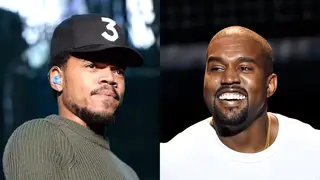 In a new interview with ABC News, the Chicago native talks about how the decision to remain independent has not always been easy, especially considering the plethora of record labels that have been interested in signing him. He admits he feels it's the best decision for him and his ever-expanding career, and hopes to inspire others by way of leading by example.
"I wanted to give the idea of freedom back to artists, and one of the biggest things is control of how you release your music," Chance said of his decision to release his music for free and remain independent. 
He also addresses how it wasn't "easy at all" saying "no" to the likes of his mentor, Kanye West.
"It's not easy at all, definitely not telling Kanye," he adds. "It's definitely hard keeping that resistance, but I wanna teach people that it's doable without."
Watch Chance the Rapper reflect on his monumental career in the clip below.