Waka Flocka Flame Responds After Claiming Coronavirus Is 'Fake' And Doesn't Believe Minorities Can Catch It
Black Twitter is swiftly reminding him of his sentiments.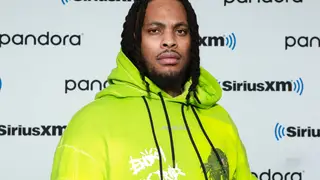 Hip-hop's severed Atlanta artist Waka Flocka Flame and his wife, Love & Hip Hop: Atlanta star Tammy Rivera, stopped by Los Angeles' Real 92.3 to talk all things marriage and career. However, his interview was derailed after host J Cruz asked Waka about his thoughts on the coronavirus and whether he was concerned.
The ongoing pandemic has continued to spread around the globe with hundreds of events being canceled or postponed over fears surrounding the virus. Per CBS News' latest report, there have been more than 3, 700 reported cases in the U.S. and at least 69 deaths. Despite these disquieting numbers, Waka shared that he doesn't believe the coronavirus is real. 

"It's fake. Minorities can't catch it, we straight," he said. 

He challenged the hosts to name one minority that has been confirmed to have contracted the virus. When pressed on his comment, Waka Flocka reiterated his sentiments.

"We all descended from the same persons. Now, did we catch it?" he posed. 

When host J Cruz brought up that there have been confirmed cases of the coronavirus in the state of Georgia, Waka Flocka had a response for that as well. At the time, many of the previously reported cases in NBA players, including Donovan Mitchell, Rudy Gobert, and Christian Wood.

 "It hit the people passing through our airport, it ain't touch them soulful folks," he countered.

"When did I say that minorities can't catch the coronavirus?" he wrote.

See what people are saying about Waka Flocka Flame's sentiments below: