Al Roker Shares New Details Of His 'Tumultuous, Frightening' Surgery
His medical team made alarming discoveries.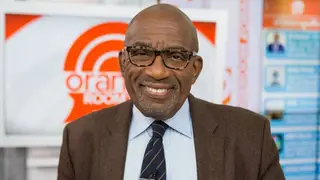 Upon his return to NBC's Today Show, Al Roker shares new "frightening" details of his surgery and road to recovery.
According to People, the news anchor's returned to Today on Friday (Jan. 6).
Roker, 68, revealed he underwent an intense 7-hour surgery to "correct a bunch of internal stuff." The weatherman was not aware of his condition's severity back in early November. He was experiencing stomach pains, but that quickly transpired into the discovery of other medical issues.
"Look, I had two complicating things," he said, going into detail of the medical team finding two bleeding ulcers,  blood clots in his legs and lungs, as well as internal bleeding."
"I had blood clots, which they think came up after I had COVID in September. And then I had this internal bleeding going on, I lost half my blood. They were trying to figure out where it was."
Roker underwent treatment at New York-Presbyterian/Weill Cornell Medical Center, where his medical team conducted surgery to  his colon, removed his gallbladder and operated on a small portion of his intestine.
He jokingly said during the show, "I went in for one operation, I got four free. So, I got that going for me."
Roker praised ABC correspondent Deborah Roberts for working directly with doctors to lead Roker to proper care.
"She basically shielded me from all of this. I'm a living example of ignorance is bliss," he said on air. "I was able to put all my energy into recuperating because I didn't know how bad this was. ... I thought I was doing good!"
"There was just so much that had to be done, and a major major surgery, if you don't mind me saying," Robert's detailed. "And we were just on pins and needles, every day. I kept everyone abreast — our family, you all. And Al and I were sitting there one day in the hospital… and through this very scratchy voice, and he was so gaunt and exhausted, he said, I'm going to make a  'spatchcock turkey for Christmas.' And I didn't know whether to burst into tears or just to beam."
Off air, he extended his thanks in an Instagram post.
Roker is filled with gratitude for his medical care team who helped get him back to sufficient health.
"I just knew because these doctors — all these doctors, I knew they had my back. And the nurses, the staff ... They were fantastic … Just world- class. I'm blessed, I have great health care."