Quavo to Appear Alongside 'Titanic' Actor Billy Zane in New Action Thriller 'Takeover'
The project marks the rapper's first starring role.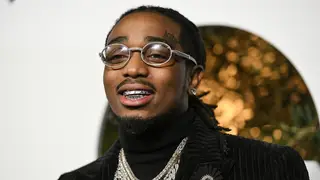 New details have emerged about the new action thriller film Takeover set to star rapper Quavo and Titanic actor Billy Zane.
According to Variety, the film follows Gamal Akopyan, played by Zane, the leader of an international heist ring who uses street takeovers to pull off extravagant robberies. When his latest heist goes awry, he must do whatever it takes to escape the Atlanta takeover scene alive–with nine figures worth of diamonds.
The "Hotel Lobby" rapper will star as Guy Miller, a former criminal trying to get his life back on track. However, Quavo's character's chance at redemption soon becomes derailed when illicit opportunities call him back into Atlanta's dangerous street racing scene. This marks the emcee's first starring role. He appeared in Atlanta, Narcos: Mexico, and Black-Ish.
The film was written by Jeb Stuart, best known for his classic action movies, including fan favorite, Die Hard with Bruce Willis and The Fugitive starring legendary actors Harrison Ford and Tommy Lee Jones.
The Takeover will be filmed in Atlanta, with production handled by Trioscope and Quality Films, the film division of Quality Control. The movie will also mesh its live-action scenes with animation.