Virginia Military Institute Alumni Group Questions First Black Superintendent's Bonus
Cedric Wins took leadership of the school, with deep Confederate roots, after a probe found systemic racism.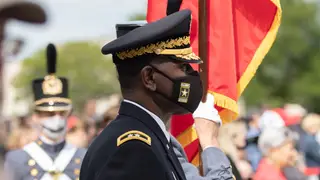 A Virginia Military Institute alumni group challenged the increased bonus the state-funded school awarded its first Black superintendent, The Washington Post reports.
In 2021, VMI gave Retired Army Maj. Gen. Cedric T. Wins a $25,000 bonus. In September, the VMI Board of Visitors increased his bonus to $100,000.
That prompted Spirit of VMI, a political action committee composed of alumni and other school supporters, to question "what performance metrics [the board] used to make such a generous award and sharp increase." The group cited its concerns about VMI's direction and its 25 percent drop in freshman enrollment.
The Post reported that 1975 VMI graduate Douglas Conte, who is White, denounced the school's "hyper liberal regime" on a conservative radio talk show and urged Gov. Glenn Youngkin, a Republican, to take a close look at VMI's decision making and whether Wins is the right leader.
Wins, 59, graduated from VMI in 1985. In 2020, he replaced longtime superintendent, retired Gen. J.H. Binford Peay III, who stepped down after Black cadets complained of systemic racism. A state-ordered investigation concluded that VMI has long tolerated a "racist and sexist culture" and must change.
VMI has defended its decision to increase Wins' bonus. Win, whose annual salary is $625,000, successfully navigated VMI through the Covid-19 pandemic, steered the school through a probe of its diversity and inclusion practices and launched its equity and inclusion program, VMI spokesman Bill Wyatt told CNN.
"This is about a bunch of rich, older White guys who are losing power. They can't handle the change because they've never had to deal with it before — a man of color leading the institute. Did they ever question prior superintendents' salaries? Whatever they're paying Wins, they ought to pay double, given all the crap he's dealing with," retired Army colonel Chuck Rogerson, who was Wins' roommate at VMI, told The Post.