The Oral History of How Dr. Dre Joined 'GTA Online: The Contract'
Here's the story behind how the West Coast hip hop icon linked up with developers of the most successful video game ever.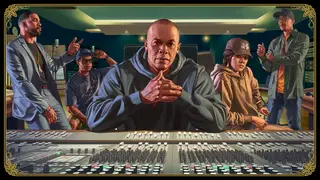 Rockstar Games' Grand Theft Auto has always featured musical elements since the original entry's 1997 introduction. Once the series evolved from a top-down perspective to fully polygonal 3D and birthed the open-world genre through Grand Theft Auto III in 2001, music became a character in itself.
A decade following the release of Grand Theft Auto V, the connected online multiplayer mode Grand Theft Auto Online recently released a campaign based around West Coast hip hop pioneer Dr. Dre with Grand Theft Auto Online: The Contract last December. The Contract comes after Dr. Dre, Interscope founder Jimmy Iovine and hit-making producer Scott Storch made a cameo in the previous GTA Online update The Cayo Perico Heist in 2020.
Rockstar North's Head of Development and Co-Studio Head Rob Nelson said that dealing with somebody as legendary as Dr. Dre meant not just shoehorning him into the world. Dre as a character is at the core of the story.
"He needed to be fully integrated so that it made sense, and we wanted to make sure that his music had the impact it deserved," said Nelson. "We asked ourselves, how can we integrate Dre into this experience at every level, and how can we get there in a way that makes it feel believable and fun? And so we literally built the game around him, not just his music."
However, The Contract was more than a simple voice-over gig. Featuring six missions centered around players attempting to recover music stolen from The Chronic producer maker. The game was so connected, that players weren't able to hear the full album on the fictional radio station Radio Los Santos (appropriately hosted by Los Angeles' The Real 92.3-morning host Big Boy) until they successfully completed the campaign. What this meant was that even dedicated and successful GTA Online players were able to listen to new Dr. Dre music two months before streaming services like Apple Music, Tidal, and Spotify had it available for the general public.
It was a key distinction in how Rockstar Games works with artists from the rest of the entertainment industry and all speaks to the idea of showcasing Dre's artistry, rather than just simply being the vehicle for his latest release.
However, the one man responsible for putting many of the pieces together, including convincing Mr. Andre Young himself to collaborate with Rockstar Games, was none other than DJ Pooh.
Beyond producing West Coast standards like Ice Cube's "Today Was A Good Day" and the Snoop Dogg and Charlie Wilson-featured "Snoop's Upside Ya Head," Pooh's screenwriting resume is nothing short of impressive with credits on the O.G. Friday alongside Cube and writing/directing the hood classic film, 3 Strikes.
A hardcore fan of the GTA series, DJ Pooh compares Rockstar to the early days of a legendary rap label.
"They remind me of Def Jam back in the day," said DJ Pooh. "[This was the] early days when you would pick up a record atthe record store and just buy it because it had [the] Def Jam [logo] on it. You knew it was going to be quality. You knew that was going to be dope. You knew it wasn't going to be wack. And I felt like that about [Rockstar's] games and [its] quality."
He found himself writing with series writer Dan Houser on 2004's Grand Theft Auto: San Andreas after literally calling a phone number he found on the back of the box.
"I connected with a guy over there and he was like we actually may have an opportunity to work on some stuff coming up," explained DJ Pooh. "And the next call I got was when they reached out to tell me they were working on 'San Andreas,' and that's the first opportunity I got to work with Rockstar."
Grand Theft Auto: San Andreas was praised not only for its evolution of the open-world design but for authentically telling a cinematic story based in the early '90s inspired by everything from classic hood films like Menace II Society to actual real events like the crack epidemic and the 1992 Los Angeles Uprising. It didn't hurt that the voice cast included rapper Yo-Yo, actors Faizon Love, Clifton Powell, Ice-T, Chris Penn, Charlie Murphy, and, of course, Samuel L. "F***in'" Jackson as main antagonist Officer Frank Tenpenny. The cinematic scope of the storytelling in the GTA games wasn't so far away from filmmaking, according to DJ Pooh.
"Well, the process with Rockstar is actually very similar to the screenplay process because their games are very cinematic," DJ Pooh shared with BET.com over a Zoom call. "Obviously in the cut scenes, and then, you know, having the freedom to do the kind of funny, dope, wild s**t you'd do with a script."
Following his writing contributions to GTA V, Pooh also served as host of the in-game radio station West Coast Classics. He said initially the connection with the good Dr. Dre was to build something for the future through the Cayo Perico Heist update as a way to build something for the future that would eventually become The Contract. There was some apprehension from Dr. Dre at first though.
"Initially it was just no," said DJ Pooh with a laugh before mentioning The Doctor's first and only lead acting role. "But that's the normal answers you get from Dre. I mean, I was surprised I got him to do The Wash but he had already promised me that so he couldn't back out. But the answer was initially no because Dre's not a gamer. He just didn't play any of the games. It's not like he dislikes them or something, he just didn't play them. He was like I don't make things for kids."
As any good gamer friend would do, DJ Pooh explained the appeal of the series, brought over his PlayStation with a copy of GTA V to Dr. Dre's Calabasas mansion, and hooked it up to his giant-sized TV and the rest, as they say, was history. Though Dre got a chance to speak with Rockstar executives, it was ultimately DJ Pooh who got him to say yes. It made perfect sense to him to be in one of the biggest games in the world considering GTAV's total unit sales of 160 million. Making a whole story arch around him and his music made even more sense.
"He was blown away. He didn't know you could do all this stuff — all the layers of gameplay that people are calling the metaverse, but it's doper than that," said DJ Pooh. "He was like, 'This shit is awesome,' and he's seeing me driving around in a lowrider. We out here putting different rims on the car, getting in a shootout, hanging out with my friends, I got a girlfriend – all that!"
Impressed by the game itself alongside the music and score, Dre began to establish trust in Rockstar Games. It didn't hurt that Jimmy Iovine had put out the soundtracks for earlier GTA titles through Interscope. Dre even participated in the motion capture work as Rockstar literally built a working recording studio in its mo-cap studio for Dre to act out scenes including a small performance of "The Scenic Route" from the soundtrack featuring Anderson .Paak (featured in the scene as well) and Rick Ross.
DJ Pooh even mentioned Dre putting in his own input as well when he wasn't blowing out the speakers in the studio built for him. The most important thing is the fact that Dr. Dre was not only treated like a musician but an actor as he brought himself to life digitally. It was simply Dre playing Dre in a way that makes sense for the GTA V world.
Besides having players work via missions to help Dr. Dre find his stolen music that eventually becomes The Contract EP, the update also re-introduces GTA V's Franklin Clinton, voiced by Shawn Solo Fonteno, as one of the three single player leads to play as. In the game, Franklin transitions from street hustler to mega-mogul by the story's conclusion. Though Fonteno didn't get to work personally with Dre during their scenes together, he was ecstatic about the opportunity.
"Come on, it's Dr. Dre! That's a musical genius," said Fonteno. "Like tying 'GTA' into the music, [into] hip hop [culture], and then you pick one of the top West Coast producers, if not the top West Coast producer [to be involved], man I knew it was going to be a hit."
In the game, players are introduced to Dr. Dre via Franklin while visiting a golf course, which DJ Pooh calls one of his favorite scenes in The Contract.
"I know if Dre hit a golf shot right by the hole he would be like, 'Give me another shot,' because that's how we would be doing it in the studio," said DJ Pooh, sharing a behind-the-scenes take with BET.com.
The Contract EP also features guest appearances from Snoop Dogg, Eminem, the late, great Nipsey Hussle, and rapper-songwriter Thurz, among others. Thurz is featured on the track, "Fallin Up," track alongside Cocoa Sarai. The rapper and host of the popular Los Angeles-based party/performance series Party In My Living Room explained to BET.com the process of working with Dre on the particular track.
"We just started to scratch the idea of me and producer Dem Jointz," described Thurz. "Then Dre put his hands on it and made it come to life. Me, Jointz, and Cocoa put down some ideas and Dre put them together. It was a collaborative process and Dre's the maestro."
Rockstar's Vice President of Music Ivan Pavlovich said that the developer wasn't looking to throw the biggest name in the music industry at the moment onto something and ship it. The developer wanted the experience of hanging out with Dr. Dre to be a real experience that was more than just licensed music.
"We're always exploring how it[music] works within the storyline and how it makes sense and how it feels," said Pavlovich. "So that was the coolest part of 'The Contract,' this was the thing that made the hairs on your arm stand up like it just all clicked and made sense: the music is the game."
The Contract joins numerous updates for the same game that's not only spawned through three console generations but soundtracks as well. The Music of Grand Theft Auto V featured exclusive music from Nipsey Hussle, Tyler, The Creator, A$AP Rocky, Problem, Oh No, and more through Mass Appeal Records. Meanwhile, the licensed soundtrack has also seen updates for the radio stations with examples like Frank Ocean for blonded RADIO or Rosalia's Motomami Radio on top of originals with artists such as Flying Lotus.
Since the beginning of the series, Music culture has always been intertwined within the GTA's DNA. Working with Dr. Dre seems like a new artistic peak for both the Hip Hop icon and Rockstar Games. It's a union of two veteran entities that have both pushed not only artistic boundaries but technological ones as well. In an era where music artists are looking for other art mediums to push their music, the open-world action crime drama of GTA couldn't have been a better fit for the Aftermath Entertainment founder.
---
Grand Theft Auto V and Grand Theft Online are currently available now for Playstation 4 / 5, Xbox One / Xbox Series S|X, and PC.
Ural Garrett is a Los Angeles-based entertainment and tech writer documenting the intersections of pop and digital culture. Follow him at @UralG on Twitter.