BET Awards 2022: Onscreen Beauty Sanaa Lathan Owns the Spotlight in These Iconic Roles
Did you catch the actress present at this year's ceremony?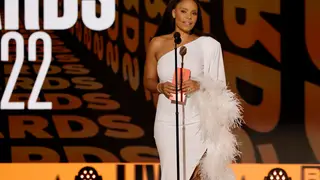 Actress Sanaa Lathan has made over a dozen appearances in some of Hollywood's most successful movies and television shows since making her feature film debut in the  Gina Prince-Bythewood directed film  Love & Basketball. The 2000 film starred an ensemble cast including Omar Epps, Alfre Woodard, Kyla Pratt, and many more.  The NAACP Image Award-winning star was one of many Hollywood stars in attendance at the BET Awards 2022 hosted by actress Taraji P. Henson. As we look back at yet another fantastic show, we're revisiting some of the biggest moments, performances, and presenters from the event, including Sanaa, who presented the award for "Album of the Year" to Silk Sonic.
In honor of the veteran entertainer, we're looking back at some of her most memorable roles. Check it out below.
Love & Basketball

In her breakout role, the actress stars as  tomboy Monica in the acclaimed romance drama  Love & Basketball  across veteran actor Omar Epps as

Brown Sugar

Sanaa co-stars in the Rick Famuyiwa-directed romance drama Brown Sugar as Sidney, a revered critic, alongside Taye Diggs's Dre, a booming yet unfulfilled music executive. The pair's friendship was born through their love for hip hop. Years later, it would affect their relationship in ways they never could imagine.

Out of Time

Sanaa is not like you've seen her before in this thriller crime film  Out of Time. When a police chief and pending divorcee Matthias steals, played by Denzel Washington, department funds to pay for his girlfriend Ann's (Sanaa) treatment, she dies in a suspicious fire, and the money goes missing. All the clues point to Matt as the culprit.

Nappily Ever After

Sanaa bravely cuts all her hair for her role in Netflix's Nappily Ever After an accident at her hair salon helps her to realize she isn't living life to the fullest. Fans all over social media gushed over the actress's shaved look at the time.

Native Son

Native Son follows the story of a young Chicago man Bigger Thomas played by Ashton Sanders, who is introduced to a new world of wealth and power after becoming a chauffeur for an affluent businessman. Sanaa played Bigger's mother, Trudy Thomas.