Bobby Brown Says Late Daughter Bobbi Kristina 'Always Present'
The singer was recently honored for his work with the Bobbi Kristina Serenity House Foundation.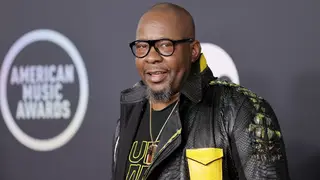 Bobby Brown said the presence of his late daughter, Bobbi Kristina Brown, is always with him.
The legendary singer shared what it meant to be honored for his work with the Bobbi Kristina Serenity House at the A World of Good Gala in Los Angeles Friday night (Sept. 29). Brown established the non-profit for domestic violence in his daughter's name after her untimely passing in 2015.
The "My Prerogative" singer told PEOPLE that Kristina is "always present" with him before showing off a pendant he was wearing with a picture of them together.
Brown welcomed his only child with Grammy Award-winning singer Whitney Houston on March 4, 1993. While accepting the Movement Maker Award alongside his current wife, Alicia Etheredge, Brown spoke on the difficulties of creating the non-profit organization and what it meant to see it come to fruition.
"[I'm grateful] that I could do something to help them out, to be there for them, to give them a safe haven in their time of need," Brown shared.
On Jan. 31, 2015, Bobbi Kristina was found unresponsive in a bathtub in the Georgia home she shared with ex-boyfriend Nick Gordon. A Fulton County Medical Examiner's report revealed that the actress died from a combination of drowning and drug intoxication. She was 22.