'Tamron Hall' Daytime Talk Show Renewed Through 2024
"Thank you so much Tam Fam! This is incredible," Hall said in an Instagram video.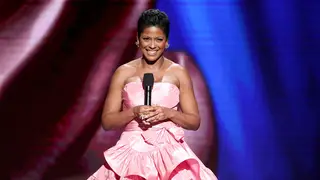 Tamron Hall and her daytime talk show under the same moniker has been renewed for two seasons until 2024.
The nationally syndicated show which is produced by ABC News is executive produced by Hall and Quiana Burns, according to Deadline. It is currently in the middle of its third season.
Hall, who is a former local and national TV news personality, first debuted her show in 2019 and was also crowned with a Daytime Emmy for Outstanding Informative Talk Show Host.
"I am so lucky to have such great partners, from ABC to all of our stations across the country, and an amazing team who all support the spirit of the show," Hall said. "We wouldn't have our success without our loyal audience."
Hall also shared the news about the renewal in an Instagram video alongside her son, Moses.
"Thank you so much Tam Fam! This is incredible," Hall said.
Tamron Hall airs in New York, LA, Chicago, Philadelphia, San Francisco, Houston, Raleigh-Durham and Fresno.
The talk show host most recently launched a new book series. Wicked Watch is the first installment and follows a Black crime reporter in Chicago who is asked to cover the violent deaths of Black women and believes she's discovered a serial killer loose in her new city.