Tamron Hall Reveals A Time When Al Roker Helped Her And Her Son
The pair reunited on the 'Tamron Hall Show' on May 21.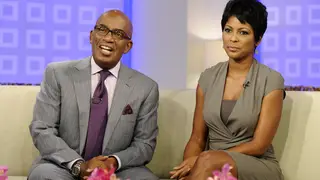 Tamron Hall knows that she can call on her former Today co-host Al Roker when she needs a helping hand. 
As a special guest on the Tamron Hall Show, Roker reunited with Hall on TV for the first time in four years on her Friday (May 21) episode. And the 50-year-old revealed a time when Roker, 66, was there for her and her 2-year-old son, Moses, who needed emergency surgery. 
"My son Moses had surgery a couple months ago, and I was in a panic. I didn't know what to do," the first-time mom shared. "I call Al Roker and I said, 'Al, I need your help.' Within seconds, I met the doctor, I'm in the surgery center, and everything worked out just beyond what I could've expected."
Continuing to say that "This is what this man brings to my life!"
In April 2021, Hall uploaded a photo on Instagram explaining to her followers that her son had an hour-long surgery but did not give any additional details.
Hall shares her son with her husband Steven Greener, the couple wed in 2019.