Steph Curry Says He's 'Really Serious' About Being Part Of Diddy's Bid To Buy The Panthers
And Kevin Durant wants in on it too.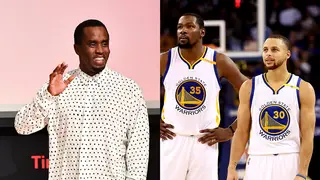 Well, during a recent interview with ESPN, Curry reiterated that he's "really serious" about it.
"I'm serious, I'm really serious about that," Curry told ESPN's Rachel Nichols during a joint interview he did with his Golden State Warriors' teammate Kevin Durant last week. "I think it's such a unique opportunity to impact my hometown. Just an unprecedented, unique situation, and knowing kind of what the storylines are around the NFL right now maybe having a hand in that. So we'll see how that plays out and whoever wants to come watch [Panthers quarterback] Cam [Newton] and everybody, hopefully win Super Bowls."
KD is willing to put his love for his hometown Washington team aside, telling Curry, "I want in" on the ownership group as well.
Watch the NBA superstars speak about their interest in the Panthers below.
Since Diddy initially expressed his interest in buying the Panthers last week, he reportedly had a lengthy phone call with Colin Kaepernick about adding investors to this possible ownership group and moving forward with the process. Like Curry, the free-agent quarterback was another athlete that let Diddy know he wants in on the bid for the Panthers, whose owner, Jerry Richardson, announced that he is putting them up for sale at the end of this season.
Do you think an ownership group featuring Diddy, Kaepernick, Curry and Durant would be successful buying the Panthers?
BET Sports News — Get the latest news and information about African-Americans in sports, including weekly recaps, celebrity news and photos of your favorite Black athletes.