Rudy Giuliani Concedes Making False Statements About Two Black Ga. Election Workers
Lawyers for the former New York City mayor say the concession was a legal maneuver.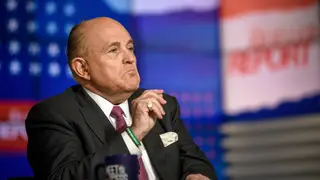 Rudy Giuliani conceded Tuesday (July 25) in a court filing that he made false and defamatory statements about two Black Georgia election workers while serving as former President Donald Trump's lawyer to dispute results of the 2020 presidential election.
But as The Washington Post reports, Giuliani's lawyer underscored that the former New York City mayor does not admit to the allegations in the federal defamation lawsuit against him by Fulton County, Ga., ballot counters Ruby Freeman and her daughter, Wandrea "Shaye" Moss. Instead, his concession is a legal maneuver to speed up the litigation.
Giuliani argues in the new court filing that his false claims that Freeman and Moss were involved in vote rigging are constitutionally protected speech under the First Amendment that did not damage the mother and daughter.
"Rudy Giuliani did not acknowledge that the statements were false but did not contest it in order to move on to the portion of the case that will permit a motion to dismiss. This is a legal issue, not a factual issue. … This stipulation is designed to get to the legal issues of the case," Ted Goodman, Giuliani's adviser, said, according to The Post.
Freeman and Moss have said they received violent threats after conspiracy theorists on social media falsely claimed that they committed election fraud to help President Joe Biden win the election. Trump and Giuliani then amplified those false allegations, they allege. The mother and daughter sued in late 2021.
"Giuliani's stipulation concedes what we have always known to be true — Ruby Freeman and Shaye Moss honorably performed their civic duties in the 2020 presidential election in full compliance with the law; and the allegations of election fraud he and former-President Trump made against them have been false since day one. While certain issues, including damages, remain to be decided by the court, our clients are pleased with this major milestone in their fight for justice, and look forward to presenting what remains of this case at trial," Michael J. Gottlieb, a lawyer for Freeman and Moss, said, according to The Post.
In June, Georgia's State Election Board cleared Freeman and Moss of wrongdoing after a probe. The Georgia Bureau of Investigation and the FBI, reviewed the entire unedited video footage of the alleged fraud and compared it to the video posted on social media by a conspiracy theorist. The social media version was found to be created by a third party who admitted to creating and posting a fake video.
In April 2022, Moss and Freeman settled their defamation lawsuit against far-right One America News Network, Reuters reported. The lawsuit named OAN officials, Trump and Giuliani as defendants.