'On The Come Up' Star Jamila Gray Reveals Her Rap Coach
The actress sat down with BET.com to share who helped her hone her skills.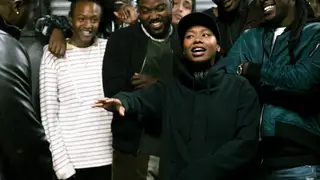 Paramount+'s On the Come Up, directed by Sanaa Lathan, stars newbie Jamila C. Gray as a skilled battle rapper named Brianna Jackson, 16, who wants to honor the legacy of her father, a gang member who was killed before she was born.
The film, which is based on the New York Times best-selling novel by Angie Thomas, shows Jackson's Jackson fame rise after her first hit song goes viral on social media but not for all the right reasons. Her character quickly finds herself torn on how to proceed in the public eye based on purpose or popularity.
To capture the essence and sound of an actual battle rapper, Gray was coached by rap veteran and emcee Rapsody and told BET.com that the experience forced her to get out of her comfort zone.
"I had the most amazing rap coach," Gray shared.  "We went to the studio, had a rap playlist that I studied and had mock rap battles. I began rapping for everyone around me in order to get over my shyness."
And when it comes to female rappers who are on her radar, Gray, who is also a DJ in real life, revealed that there are few who she is particularly fond of.
"Some of my current faves are Tia Corrine, Mercury, Muddymya, and Latto. Glorilla and Ice Spice are doing their thing! These are all great artists that are on their come up."
In addition to Lathan and Gray, the movie also stars Da'Vine Joy Randolph, Method Man, Mike Epps, and Lil Yachty.
On The Come Up which is now available for purchase on digital platforms will also be released on DVD on Feb. 14.