Man Charged In McDonald's Worker Shooting Also Charged In 2020 Unsolved Murder
Michael Morgan confessed to the 2020 shooting death of Kevin Holloman.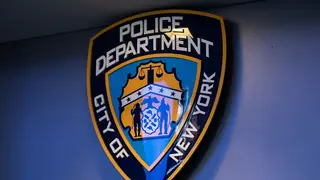 The man charged with shooting a McDonald's employee in the face over a dispute about cold fries, in Brooklyn, now faces murder and weapon possession charges in a separate case after confessing to an unsolved 2020 homicide, the New York Daily News reported.
Michael Morgan, the 20-year-old accused gunman, reportedly told the police during questioning that he killed Kevin Holloman in October 2020. The NYPD charged him Wednesday (Aug. 3) for the slaying in which Holloman, 28, suffered "multiple" gunshot wounds in front of an apartment building in Brooklyn's Bedford-Stuyvesant neighborhood.
Investigators had long suspected Morgan, who has 13 prior arrests, of the fatal shooting, which happened six blocks away from where he allegedly opened fire on the Matthew Webb, 23, on Monday (Aug. 2). The prosecutor wanted more evidence before arresting Morgan for the killing.
"For a while we tried to make an arrest and get this guy off the street. The guy should be behind bars, should be in jail," the newspaper quoted a police source familiar with the case.
Holloman's sister, Gardenia Holloman, 32, had mixed emotions about the new charges against Morgan.
"I am relieved but it will never bring my brother back. So it's bittersweet," she told the Daily News, adding that her brother was "a wonderful uncle to three little girls and he loved them."
Meanwhile, on Wednesday, Webb's condition is still listed as "extremely critical" at Brookdale University Hospital in Brooklyn. The police charged Morgan with with attempted murder and criminal possession of a weapon in that case.
RELATED: Mom Of Man Charged In McDonald's Cold-Fries Shooting Reveals What Led To Incident
According to NYPD, Morgan and his girlfriend, Camellia Dunlap, 18, went to the fast food restaurant on Monday after the suspect's mother, Lisa Fulmore, 40, told him, via FaceTime, that she was having an argument with McDonald's employees about the cold French fries.
Morgan and Dunlap went to the restaurant, where an argument escalated and spilled outside. Morgan allegedly pulled a 9-mm handgun and shot Webb.
Officers nabbed the 23-year-old man as he fled the scene. They also arrested Dunlap on weapon possession charges for allegedly running off with Morgan's gun after the shooting.