'Good Times' Actress Ja'net DuBois Dies At 74
The sitcom star also composed and sang the theme song to 'The Jeffersons.'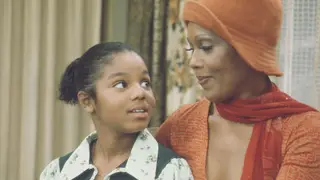 Ja'net Dubois, the actress best known for her role as Willona Woods Good Times, has passed away, according to TMZ.
TMZ reports, "We're told Ja'net hadn't complained of any specific ailments recently, and appeared to be in good health to those around her. She even attended a fan event in Hollywood a couple weeks ago." Her body was found on Tuesday morning at her home  in Glendale, California. 
In addition to her role as Willona Woods, she composed and sang "Movin' On Up," the theme song for The Jeffersons. 
During the 1980s, DuBois operated the Ja'net DuBois Academy of Theater Arts and Sciences, which was a performing-arts school for teenagers in Long Island, New York. In 1992, DuBois, Danny Glover and Ayuko Babu co-founded the Pan African Film & Arts Festival in Los Angeles.