Common Shares Intimate Details About Living With His Girlfriend, Tiffany Haddish
The rapper chatted about their lifestyle as a couple.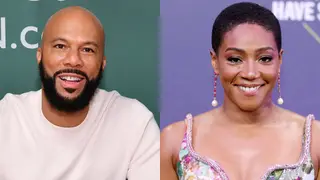 Tiffany Haddish has quite an influence on her rapper boyfriend, Common. Besides being the inspiration behind his rock-solid abs, the comedienne apparently shares her thoughts and opinions with her loving beau, which he receives with open arms. 
While chatting with People magazine for their "Sexiest Man Alive" issue, Common shared some intimate details about his experience sheltering in place with his 40-year-old girlfriend, along with how she's influenced his everyday lifestyle. 
"I would definitely say that we definitely inspire each other," the 48-year-old Grammy winner shared about his actress girlfriend, who recently gave him beard oil to support his grooming goal of enhancing his facial hair. 
Taking a break from their busy schedules due to the coronavirus pandemic, the famous pair has had more time than ever to bond over small game nights, workouts, and homecooked meals—despite having different diets.  
"Once I started removing certain things from my diet, [I started] feeling better and thinking clearer and feeling stronger actually," he explained about his vegan lifestyle. "Tiffany's eating habits are not like mine. But she will eat some vegan things. I remember early on, I was like, 'Taste this.' And she ain't like some of it."
He continued, "She's health-conscious, but she just also likes her food. See, she supports the businesses, Black businesses. She going to make sure she gets the foods that she wants."
Speaking of food, Common also revealed that Tiffany has been consistently trying to teach him how to cook. "She hasn't had much success in it because I will sometimes be drifting off doing other things, but to be honest it is something that I would enjoy," he joyfully shared. "I don't want to continue to do it a lot, but I like learning. So, that's been fun."
So sweet! We are happy to know that the couple, who confirmed their relationship earlier this year, is living their best lives—together!