Seven More NBA Players Test Positive For COVID-19
Training camps are scheduled to open in July in Orlando.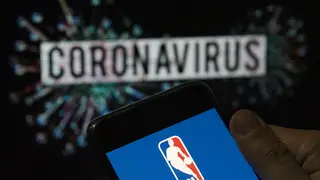 Against the backdrop of the amended 2019- 20 NBA season set to restart at the end of July, it has been reported that seven more players have tested positive for the novel coronavirus. 
According to ESPN, Denver Nuggets all-star Nikola Jokic and six others have tested positive for COVID-19. Jokic has reportedly been asymptomatic since the initial test. 
ESPN's Senior NBA Insider, Adrian Wojnarowski,  followed up the claim on his Twitter on June 23 confirming that one Western Conference playoff team had four positive coronavirus tests in the last few weeks. 
Wojnarowski, continued an extensive Twitter thread on his thoughts on the NBA season gearing back up in the heat of the pandemic, see below:
The Phoenix Suns abruptly stopped their voluntary workout sessions at their team's workout facilities after two of their players tested positive this month.. 
Twenty-two out of the thirty NBA teams are scheduled to compete at the Walt Disney World Resort in Orlando, with training camps scheduled to open on July 11.