Ciara is Pregnant, Expecting Baby With Husband, Russell Wilson
The power couple recently celebrated their seventh anniversary.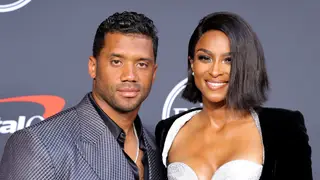 The word is out. Ciara is pregnant!
On Tuesday (August 8), the "Level Up" singer broke the exciting news to her followers on Instagram. The announcement was filmed by her hubby Russell Wilson while on their anniversary last month in Japan, according to PEOPLE.
In the black-and-white video, Ciara dances around a pool with a city view behind her while her growing bump is on display. "You look at me like that again, we make another kid… You my heart I'm your rib" 🥰😘❤️," she captioned the post.
This will be the fourth child for the mom-to-be, who shares 3-year-old son Win and daughter Sienna Princess, 6, with Wilson. She is also mom to son Future Zahir, 9, whom she shares with rapper Future.
Although she is expecting, her pregnancy is not slowing her down. A source told the outlet, "Ciara has been working and traveling all through her pregnancy. She shot the 'How We Roll' video while pregnant. She was dancing on set all day long for a full day's shoot."
The source continued, "It's astonishing how much energy she has when she's pregnant."
"She's one of those mothers who has energy throughout her whole pregnancy. She always calls her life organized chaos — but it's organized chaos taking it up another notch."
"She loves being a mother so this is what she loves doing. This is what she has always wanted, and Russ too. They've always wanted a lot of kids."
The growing family recently enjoyed the summer in the Bahamas that the singer dubbed "sweet and memorable."
She added, "Moments like that are so fun. Just being able to travel and be together as a family, I always value those moments," she says. "Even just sitting down and having dinners together as a family.