Boxing Champ Deontay Wilder Wants To Knock Out Hollywood
"I'm very serious about acting. I came on the set and killed it."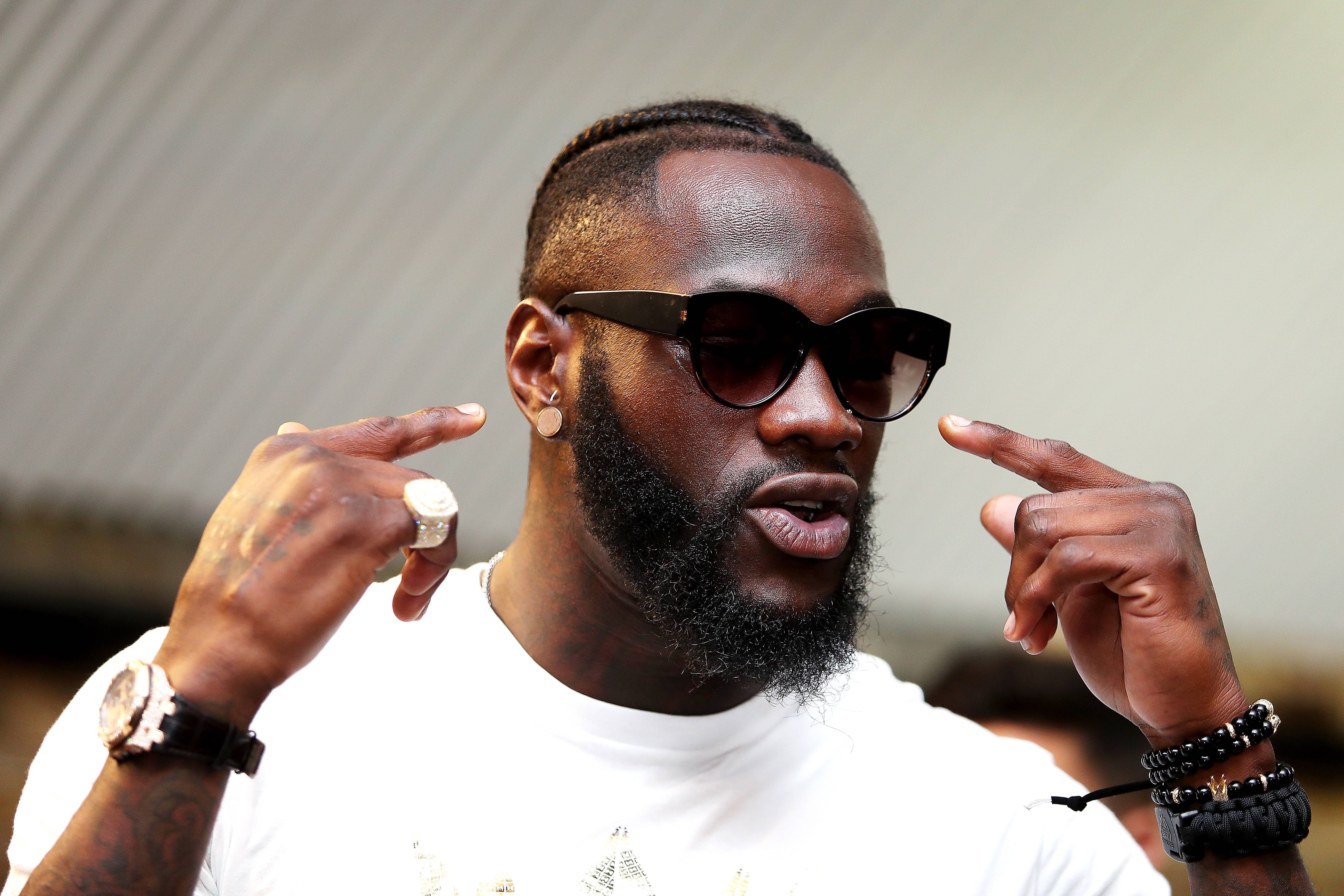 WBC heavyweight boxing champ Deontay Wilder is holding court in his Alabama training facility just days before his pivotal November 23rd rematch with hard-hitting Cuban southpaw Luis Ortiz. Ever since the 34-year-old beat rival Tyson Fury in a 12-round split decision last December, he has solidified his claim as the most exciting (and feared) fighter on the scene. And as with most interviews before such a big pugilistic affair there is plenty of prerequisite braggadocio.
"A lot of fighters say they are ready at a certain point in time, but I come in ready to the ring," chest-beats Wilder, who admits his upcoming matchup is a dangerous roadblock to another lucrative, multi-million-dollar super-fight against the mercurial Fury. "I'm already coming into this fight with Ortiz with a [knockout] mindset." 
But when talk turns to another passion, Wilder seemingly levitates off the floor. "I'm also very passionate about acting," he says, without a hint of showbiz bulls**t. Indeed, the man is serious. In October, Wilder appeared in an episode of CBS' big budget reboot Magnum P.I. as Noah, a veteran and employee of Magnum's fast-talking, ride-or-die buddy, Rick. Wilder's hardworking character's car is stolen. Everything he owns is in the vehicle, including his Marines uniform. Rick helps out the homeless, proud Noah. (He even turns down a loan!) Wilder ate the role up. 
"One day my business manager came to me and told me that [the producers] wanted me to come on and play a part," he explains. "Magnum P.I. is a big show. They have a lot of viewers, but they didn't know what they were really getting themselves into. I'm very serious about acting. I came on the set and killed it. Now they want me back. Looking at my character, Noah…there's so much you can tell about him. Noah could be a part of the cast."
However, Magnum P.I. is not Wilder's first acting gig. He scored a previous role last May playing himself on the critically acclaimed Showtime drama Billions. "I can't speak for other athletes, but acting has become source of creativity for me," he says. "I have an enjoyment, a love for acting. You can go within your mind and create certain scenarios and scenes. The best lines like Denzel [Washington] in Training Day, saying, 'King Kong ain't got [shit] on me!' are not scripted. He just felt that. That's what I mean by creativity." 
Indeed, Wilder is not alone. He follows an illustrious group of sports luminaries that have jumped to the small screen that includes Muhammad Ali, Florence Griffith Joyner and LeBron James. Some performances are golden…others are infamous. Let's go to the tape!
Muhammad Ali (Different Strokes, 1979) 

The Greatest of All Time drops in the Drummond household for an old trope that manages to pop with hilarity. Famous athletes visiting sick kids has been a part of the pop culture landscape going as far back as 1926 when New York Yankees great Babe Ruth promised an ailing 16-year-old Johnny Sylvester that he would hit a home run for him in the World Series. But when Willis and Kimberly dubiously convince the immortal Ali that their little brother Arnold is dying and that his last wish is to meet the boxing deity, the jokes come fast and furious. "It's me, the Champ," a concerned Ali says, to which Arnold replies, "Joe Louis?" Ali responds: "The kid's delirious." Cue uproarious laughter.

Florence Griffith Joyner (227, 1988)

The late Olympic goddess and fastest woman in the world is in town to lend her support to a local Washington, D.C., marathon. Along the way she meets up with Mary Jenkins and her star-struck family and friends. There's an eye-winking moment with resident bombshell Sandra Clark. Joyner even gives young Brenda (played by future Emmy and Academy Award winner Regina King) a pep talk after she comes in third at a high school track meet. In all her trademark Flo Jo regal style, of course. 

Barry Bonds (Beverly Hills: 90210, 1994)

On the original iteration of 90210, polarizing home run king Barry Bonds plays a beyond cocky, self-absorbed, ruthlessly competitive golf enthusiast who takes pleasure in trash-talking Steve's father on the links. In other words, not much of a stretch acting wise for the controversial San Francisco Giants legend. 

Ken Griffey Jr. (The Fresh Prince of Bel-Air, 1994)

The sweet swinging, future Baseball Hall of Famer known as The Kid obviously didn't have much on his schedule during the 1994 MLB strike. Maybe that's why he seems to be making the most of his brief cameo when an oblivious Carlton challenges the ultimate five-tool talent Ken Griffey Jr. to throw a strike. He also has time to deliver a sick burn at the expense of Will Smith's Fresh Prince. 

Larry Johnson (Family Matters, 1993)

Before he was traded to the New York Knicks in 1996, Larry Johnson was a high flying, posterizing superstar leading the way for the Charlotte Hornets. He also took on the absurd Grandmama persona initially created for his popular Converse React sneaker campaign (https://www.youtube.com/watch?v=thbUkBW_ftM). And so we get to witness Johnson, wearing a dress and church hat, team up with Eddie Winslow for a 2-on-2 basketball tournament. But after Grandmama suffers an injury (ominous sign?) Steve Urkel checks in and plays hero. Yes, the ridiculousness of the ultimate catch-phrase throwing, sitcom nerd making a game-winning dunk cannot be overstated. 

Chris Bosh (Parks and Recreation, 2013) 

What's even more impossible than finding online footage of Chris Bosh's hysterical appearance on Parks and Recreation (thanks NBCUniversal)? The absurdity of the now retired 6-foot-10 Miami Heat perennial all-star and two-time NBA champ passing for a high school ringer.   

Serena Williams (The Bernie Mac Show, 2006)

Record-breaking, celebrated tennis legend and all-around badass Serena Williams pops in on one of Bernie Mac's chuckle-worthy confessionals. She's not particularly excited to be there…that is until talk turns to the unbreakable bond she shares with her equally iconic sibling, Venus. "The whole world saw you whop on your sister's ass at the French Open," a gregarious Bernie muses. "What you talking about my sister like that for?" Serena claps back. "I ought to get up and kick your ass right now for that." Don't doubt her.    

LeBron James (Survivor's Remorse, 2015)

When you are the executive producer of your own cable show comedy, of course you won't pass up the chance to make a head-turning guest appearance. That's exactly what LeBron James did when he added his sizable star-power to an episode of Starz' gone-too-soon, criminally underrated Survivor's Remorse. "That's why you are exactly the best player in the world," praises Reggie Vaughn, the ambitious cousin and agent of rising basketball superstar Cam Calloway. "Best player in the world…I like that…I'm going to use that," a cheeky James responds. Nice work if you can get it. 

Michael Vick (Atlanta, 2018)

It's not quite explained in depth why former Pro Bowl quarterback Michael Vick is racing all comers for money at a late-night parking lot, but that's the comedic brilliance of Atlanta. "He's taking bets, too," says a nonchalant onlooker when asked by a gob-smacked Earn if everything was OK with the former superstar. "Oh, he's fine," says the man. "It's just a good hustle." But when Earn challenges the retired (and apparently still) lightning fast QB to a run, it ends in hilarious silence. "It's Michael Vick," bristles a perturbed Van, his baby's mother and on-again, off-again girlfriend on the way back home. Hold that L.