Snoop Dogg Launches A Line Of Breakfast Products For The Culture—Here's What We Know!
Nothing but a breakfast thang!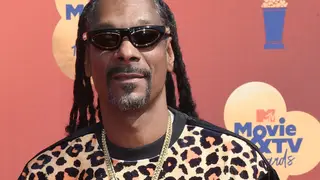 Rapper and actor, Snoop Dogg is bringing diversity to grocery aisles one product at a time.
He started with Snoop Loopz, and now he's adding more breakfast items to the Broadus Foods collection. According to the brand, "BROADUS FOODS is more than a family-owned food product company, it's a movement to making a difference in the lives of families and communities. We stand for integrity, hard work, and giving back." They strive to provide foods that are deliciously made with the highest quality. "Broadus Foods was founded to continue Mama Snoop's legacy of her generous love and passion for feeding families in our communities."
Snoop Dogg appointed Percy Miller, also known as Master P, as his CEO to push forward the mission of inspiring economic empowerment. Now, the rap legends have new titles as the "Kings of Breakfast Foods" thanks to the world-famous Mama Snoop breakfast foods, which consist of everything from cereal to pancake mix to oatmeal.
The Day Shift actor took to Instagram to show off his venture. He said, "That's how we doin' it. Makin' it real easy for you to get up in the morning, get you something to eat, start your day off right. Somethin' healthy, somethin' generational, somethin' from me and P, to you and yours."
When Aunt Jemima left the shelves, Snoop felt that there was a "void for our culture," so he decided to fill it. "We're replacing it with 'Momma Snoop' pancake mix, syrup, grits, and oatmeal, adding diversity into the grocery stores industry and creating opportunities for minority-owned food products and brands," Snoop captioned on Instagram.
In accordance with Afro Tech, each purchase of Momma Snoop Breakfast Foods will support charitable efforts such as Door of Hope, a non-profit that focuses on assisting those facing homelessness.