Teen Protected From Portland White Supremacist Terrorist Thanks Her Defenders
"Without them, we probably would be dead right now."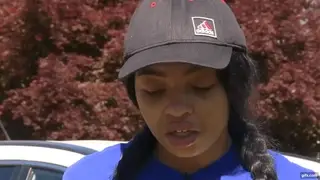 One of the teenagers who was protected by three men during an attack on a train in Portland, Oregon is made an emotional thanks to her defenders on Saturday (May 27).
16-year-old Destinee Mangum spoke to Oregon's Fox 12, often breaking down into tears, and expressed her thanks to the men (two of which were killed and one severely injured) who prevented her from harm from a racist terrorist attack by suspect Jeremy Christian.
"They lost their lives because of me and my friend, and the way we looked," she said. "I just want to say thank you to them and their family, and that I appreciate them. Without them, we probably would be dead right now.
"I just want to say thank you to the people who put their life on the line for me because they didn't even know me," she continued.
Mangum described what happened. She and a 17-year-old friend were riding the MAX train when Christian approached the girls and told them that Muslims should die. Mangum is not Muslim but her friend, who was wearing a hijab, is.
According to her, she and her friend moved away from the suspect but he continued to approach and scream at them. He also told them that they should kill themselves or go back to Saudi Arabia.
That's when the three men intervened. 53-year-old Ricky Best and 23-year-old Taliesin Namkai-Meche were cut in the throat by a knife and killed while 21-year-old Micah David-Cole Fletcher, who was also slashed, survived the attack.
Jeremy Christian was arrested after fleeing the scene and has been charged with aggravated murder.
Watch Destinee Mangum speaking out about the attack below.