10 Brands To Shop While Supporting Breast Cancer Awareness
Give back and celebrate Breast Cancer Awareness month in style.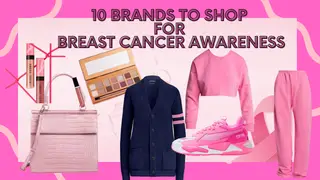 The average risk of a woman in the United States developing breast cancer in her lifetime is about 13%. Black women are 41% more likely to die from breast cancer than White women, despite being less likely to be diagnosed with it. Joining the fight against breast cancer can be as simple at shopping for the cause.
Help support innovative research that moves us closer to a cure for breast cancer by putting your dollars into these beauty, fashion and wellness brands. 
Below, we've rounded up 10 favorites that are celebrating Breast Cancer Awareness month in style.
Thrive Causemetics

Besides being vegan, cruelty-free, and safe enough for cancer patients, Thrive Causemetics products are also free of carcinogens and other harmful ingredients that could put consumers at risk over time. Since 2015, Thrive Causemetics has given to more than 400 Giving Partners, including 5 Under 40 whose mission is to provide funded medical, wellness, educational, and beauty services to women under the age of 40 who have been diagnosed with breast cancer or have a BRCA mutation. Check out its fan-favorite Buildable Blur CC Cream to support the cause!

Modern Picnic

Modern Picnic, known for its chic, functional, and sustainable lunch boxes, supports The Pink Agenda for the fourth year in a row! 20% of all proceeds from the exclusive Pink Croc Collection are donated to the non-profit throughout October. This exclusive collection features The Luncher ($159) and The Large Luncher ($189) in an adorable shade of light pink with a crocodile print texture. The vegan leather exterior and insulated interior allow you to pack your lunch in style while giving back to a good cause.

KISS

In honor of the cause KISS—the market leader in both fashion nails and false eyelashes in the U.S.—dropped a BCA collection and is donating 10% of the proceeds to the Breast Cancer Research Foundation. This October, show your support with exclusive nail and lash looks like KISS Gel Fantasy Sculpted Nails and imPress Press-On Manicure Nails in styles adorned with the breast cancer awareness ribbon and plenty of pinks. Also available are KISS lashes in four empowering styles: Hope, Pink Hero, Courage, and Laugh.

Bangn Body

The cult favorite organic skincare brand will be donating $10 of each PINK Firming Lotion ($48) and BCAM Bundle ($88) sold to the National Breast Cancer Foundation. The brand is also honoring those affected by breast cancer on their Instagram Stories by allowing customers and friends of the brand to share their stories and honor those in their life who have been burdened by the disease.

Naked Wardrobe

In honor of breast cancer awareness month, Naked Wardrobe has designed a limited edition collection of basics to help support fighters, survivors and fund medical research. 100% of sales from its PINK collection will be donated to Breastoration, Dr. Susan Love Foundation and AiRS. Styles include jumpsuits, joggers and more in Barbie pink shades.

Sugarbear

The best-selling hair vitamin brand has revamped its iconic blue bear gummies within a limited-edition kit—Sweet Vitamins for A Good Cause ($69.99)—and is donating 13% of the retail sale price from each kit to the Susan G. Komen Foundation through September 14, 2023 (or until supplies last) with a guaranteed minimum donation of $250,000 regardless of sales. The kit includes a 3-month supply of gummies and a glass nail file.

​​Bobbi Brown

A portion of sales from the limited-edition Proud to Be Pink duo gloss ($37) will be given to the Breast Cancer Research Fund. The high-shine lippies blended with nutrient-rich botanical oils are wrapped in a limited-edition, power-pink design for the occasion.

Fabletics

This month, Fabletics will donate $25,000 from the Powerful Pink Collection to research and programming towards the non-profit 'F Cancer.' Shop activewear and athleisure favorites like sports bars, leggings, and hoodies in bubblegum, hot pink, and millennial pink.

Sigma Beauty Pretty in Pink Set

Sigma Beauty is donating 20% of proceeds from every purchase of its new Pretty in Pink Set ($36) to The Pink Fund. This limited-edition set features a gorgeous 9-shade eyeshadow palette, best-selling blending brush and hydrating liquid lipstick. All in travel-friendly sizes, these must-have pink products allow you to create stunning looks on the go while supporting a beautiful cause.

Urbanstems

Urbanstems will be donating $5 of every purchase from its Breast Cancer collection in October to the Breast Cancer Research Foundation, up to $15,000. These bold and beautiful bouquets feature an array of flowers starting at $68. Send a bouquet to a loved one and show love to everyone affected by Breast Cancer at the same time.