Stevie Wonder Will Postpone Tour To Undergo Kidney Transplant In September
The news comes on the heels of rumors he was battling a serious health condition.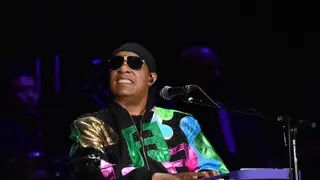 On Saturday (July 6), Stevie Wonder shocked fans around the world when he made a surprise announcement that he will be taking a sudden break from performing to attend to a serious health issue.
The 69-year-old musical legend was performing in London at the British Summer concert when he suddenly revealed mid-performance that he is postponing the rest of his tour to receive a kidney transplant this fall, according to the Associated Press.

"So what's gonna happen is this, I'm going to have surgery, I'm going to have a kidney transplant in September of this year," he said amid shocked reactions from concertgoers.

The Motown legend had a positive note to share alongside the somber news. Wonder reassured fans that everything was going to be OK and that a donor had already been found, which was met with cheers and applause. 

"I want you to know I came here to give you my love and to thank you for your love," he said. "You ain't gotta hear no rumors about nothing, I told you what's up. I'm good. All right?"

Stevie did not share any further additional information in regards to his health and finished his set with "Superstition." Stevie said that he will complete his next three shows before he goes on break. 

The news comes on the heels of rumors that he was battling a serious health condition. Sources close to the singer told the Detroit Free Press that Stevie was facing some health complications but stressed there was nothing to be concerned about.

The Motown legend is reportedly doing well and managing his health under the supervision of a medical team that has been traveling with him on tour, according to the Michigan publication.

Despite the pending surgery, Stevie promised fans that he will finish out the rest of his tour. He even has an upcoming show in Ireland on July 9. 

We wish him a speedy recovery!