Draya Michele Silences The Haters That Says She Can't Make Fried Chicken By Revealing Her Secret Recipe On YouTube
The former Basketball Wives star served up a delicious clap back!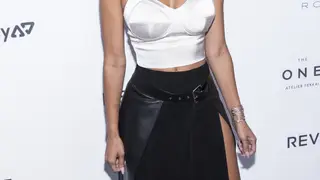 Draya Michele is settling the score after constantly finding herself kicked out of the kitchen for posting what many considered, "struggle plates," on social media.
Coming for those who pitilessly roasted her for frying chicken that looked TOO good to be her creation, the former Basketball Wives star decided to silence the naysayers for good by creating a cooking show on her YouTube channel.
"Remember that time you guys roasted me on making chicken," she captioned a post on Instagram promoting her new video, followed by eye-rolling emojis. "[…] I don't care about how your grandma makes it or your auntie with the elbow dimples."
Titling the show Cooking with Draya, the 34-year-old business babe revealed her secret fried chicken recipe—and no it's not Popeyes! 
Despite cooking them longer than she wanted, the recipe seems legit to us. Flexing her cooking skills, Draya confidently seasoned her chicken with season salt and lemon pepper seasoning before dredging them in eggs and flour. 
See for yourself the step-by-step video that severed as a delicious clap back to her haters: