Drake Announces OVO Fest Lineup And Fans Think It Looks A Lot Like B2K's Millennium Tour
Flashback.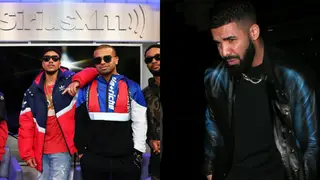 Welp. If you just so happened to miss out on experiencing the epic Millennium Tour, fronted by 2000s heartthrobs B2K, Drake might've saved that day. Or at least that's what the fans are saying. On Thursday (July 11), Drake finally dropped the lineup for this year's OVO Fest on Instagram. 
Fans have been anxiously waiting to see who would make the cut since he first announced the festival in June. Well, Drizzy hasn't kept us waiting any longer – and it's got all our favorite R&B stars. Mario, Bobby V, Pretty Ricky and Lloyd are a few of the artists slated to perform at the ninth iteration of OVO Fest in Toronto come fall. Which is nearly identical to the acts that performed on the Millennium Tour during its 2019 run. 
The reunion tour did well numbers-wise and had us all re-living the early 2000s, so you can really blame Drake for biting off the lineup just a little? The Millennium Tour coincidentally didn't make a stop in Toronto, so a few fans see it as the Six God has finally answered their prayers. Maybe this will even help Drake jump a few spots up from his 25th spot on Forbes' highest paid entertainers list. OVO Fest 2019 kicks off on August 4 at the Budweiser Amphitheater in Toronto.
See festival lineup and dates as well as the internet's reactions to it below: