Hip Hop Mogul Jermaine Dupri's Own Vegan Ice Cream Line Is Coming to Walmart
JD's Vegan comes in six Atlanta-inspired flavors.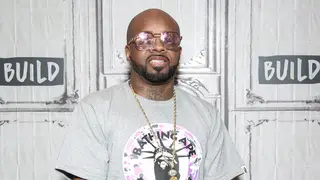 Grammy Award-winning rapper, record executive and one of the highest-selling producers ever,
Jermaine Dupri, can now add "gelato maestro" to his list of accomplishments after launching his own vegan ice cream brand JD's Vegan.
After working with almost every megastar to be associated with rap and pop music, the Atlanta native is now partnering with the frontrunners in the dairy biz, Malcolm Stogo and Big Innovations Inc., to bring a new ice cream made from a base of coconut cream and without animal-derived ingredients.
Dupri is furthermore ensuring his product is available to the masses by partnering with Walmart, which launched JD's Vegan's first three tastes on its website today, priced at $6.47 per pint.
Like everything JD touches, they show off both his creativity and the love for his hometown as they're titled: "Welcome to Atlanta Peach Cobbler" (made with golden peaches and dotted with crumbled cobbler); "Apple Butter" (a buttery apple base swirled together with toasted cinnamon streusel crumble); and "Strawberry Sweetheart" (featuring strawberry chunks and swirls).
"Walmart and I share the same vision of providing consumers with the best products and making healthy alternatives accessible to everyone," Dupri said in a statement. "JD's Vegan ice creams taste as good as, or better than, the real thing. You don't have to lose anything going vegan. JD's Vegan ice cream proves you can gain nothing but quality foods with out-of-this-world flavor and taste."
And next month, JD's Vegan ice cream will unveil its other three flavors: "Chocolate My Way," "Key Lime Pie," and "(404) Cookies & Cream." Walmart will roll out the remainder of the line on Dec. 28 both in-store and online. JD's Vegan is also available through the ice cream company's website.
Dupri is not new to this vegan lifestyle and, one could say, has even been ahead of the curve after adopting the lifestyle 15 years ago. In 2018, he appeared in a PETA campaign with the slogan: "Feel the beets. Lose the meats. Go Vegan" and in 2019, Dupri hosted a vegan Thanksgiving event at West Hunter Street Baptist Church. 
Last summer, Dupri partnered with Slutty Vegan and Impossible Foods to host the year-long Votenik campaign that aimed to feed communities across the country as they exercise their right to vote.
Dupri makes up a number of hip hop artists who have switched up their lifestyles for the better. Yonkers rapper Styles P opened up a juice bar in the Bronx with friends Nyger Rollocks and Leo Galvez back in 2011. Snoop Dogg, Erykah Badu, and A$AP Rocky are rumored to have adopted the lifestyle as well.
Make sure you're on the lookout for JD's Vegan Ice Cream next time you're on a trip to Wally's World.