Update: The Stupid Mistakes That Made It Especially Easy for Police to Find NY Explosion Suspect Ahmad Khan Rahami
The amateur led officials right his way.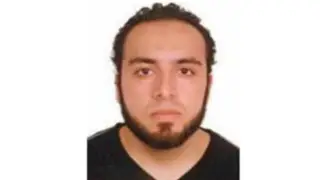 Ahmad Khan Rahami, the suspected wanted in connection to the explosions in Chelsea and New Jersey, is in custody, a police official said.
Police were able to locate Rahami due to many amateur mistakes made by Rahami. According to officials, Rahami used a personal phone that made calls to friends as the detonator on the failed pressure cooker bomb.
Additionally, Rahami was captured on CCTV in both locations with his face completely visible for FBI identification. His DNA and fingerprints were found at both bombing locations and the car Rahami has access to was seen going back and forth between New York and New Jersey.

Rahami's arrest followed a police involved shooting. Two officers were shot in Linden, New Jersey, Monday morning. One officer was shot in his bulletproof vest and another officer was shot in the hand, officials say.
It was also reported that Rahami was shot during the altercation. A third person was also injured.
When Rahami was taken into custody, officials found a notebook with jihadist-like causes written in it. Officials will investigate the messages in the notebook.  
Early this morning, an emergency alert was sent to all NYC cellphones with the identity of the current suspect involved in the explosions that took place in New York and New Jersey last weekend.
While giving a statement on Monday morning, NYC Mayor Bill de Blasio spoke about the recent developments.
"I want to be very clear that this individual could be armed and dangerous," Mayor Bill de Blasio said. "Anyone seeing him should call 911 immediately."
Rahami is a naturalized US citizen who was originally born in Afghanistan. Governor Andrew M. Cuomo, who at first stated the explosion did not appear to have any connections to international terrorism, has said that new evidence may suggest something different.
"I would not be surprised if we did have a foreign connection to the act," Cuomo said on CNN.
Rahami is described as about 5-foot-6 and about 200 pounds. Mr. Rahami has brown hair, brown eyes and brown facial hair. It is advised that you immediately call 911 if you see Rahami or have information on his whereabouts.