NYFW Inspiration: What to Add To Your Closet To Make The Streets Your Runway
Trends you can expect to see in spring 2024 but start rocking this fall.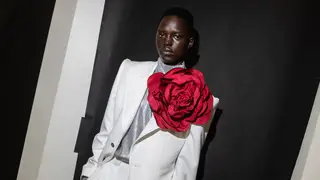 Fashion week has ended, and the runway shows excited us for what the streets will look like come spring. New York Fashion Week is always a great source of inspiration, showcasing the latest trends from the world's top designers. On the other hand, street style is a more organic look at what people are wearing. 
This can be a great way to see how the latest trends are interpreted and worn IRL.  So, if you're looking for some fashion inspiration, be sure to check out the runways and street style from Fashion Month. You might find your new favorite outfit!
Textures

Consider a wide range of materials, from lace to leather to fur and colors that pop. LaQuan Smith offered up crocodile-embossed leather as a fashionable option. He even told Fashionista, "I love leather. I love texture; I love fabric. I love textile, and I had a lot of fun with it."

Bold Colors

Think of bright and vibrant colors like yellow, neon green, hot pink, and electric blue. Brands like Fumi the Label, a contemporary label created with women in mind who are comfortable in themselves and their style, showcased this trend for their first collection in the Black in Fashion Council showroom. The designer told BET, "I make pieces that can be worn on a Tuesday or a Saturday."

Statement Bags

When it comes to accessories, it's all about statement purses. You can look to CISE Store for a bag that gives fashion and speaks to the power of protecting Black women and children.

Oversized Silhouettes

The runways often pay homage to the early 2000s, from baggy pants to boxy jackets to oversized sweaters. WHO DECIDES WAR tapped into this trend with their latest collection, Alterations Consultants. This year marks hip-hop's 50th birthday, so this is a great way to recreate some of those iconic looks.

Mixed Prints

Have fun with prints by combining different patterns. Studio 189 is known for its African-inspired flair and showed us how to effortlessly execute taking a fashion risk. Mix designs that are of the same color family or that have a similar style or theme. Avoid mixing too many patterns at once, and make sure the prints you choose complement each other.

Classic Suiting

While some designers were focused on Spring 2024, Hanifa gave us all the fall feels with their undeniably fly aesthetic, which included classic and deconstructed suits. This Black woman-owned brand continues to grow without limits.

Sequins

If you want to add sparkle to your look, sequin is the way. Whether it's on your top, pants, or dress, this is a surefire way to elevate your outfit. Sammy B Designs served up a bevy of inspiration with her Spring 2024 collection. Sammy B is a feminine, eclectic womenswear line perfect for modern women.

Cropped Blazers

Structure is "in" fashion, including a well-cropped blazer—a versatile piece that can be dressed up or down, adding a touch of sophistication to any outfit. It is perfect for work, a night out, or a casual weekend look. Sergio Hudson has a way of making women feel confident and sexy with his pieces.

White-Hot

Now is the time to abandon the "no white after Labor Day" rule. White can be crisp and cool and add sophistication to any look. We saw this evidenced with HAUS, a Black-queer-owned design house that creates urban contemporary, gender-affirming, and inclusive clothing with an eco-friendly focus. With the use of vegan and recycled materials alongside a small batch production process, HAUS can achieve its mission to create garments that truly include all bodies, all people, all the time.

Sheer Realness

Kevan Hall is the king of sheer designs, and this season was no different as his creations made whimsical appearances on the runway. Here are some tips on how to rock the sheer trend: Layer sheer pieces. For example, you might wear a see-through top over a tank top or a transparent skirt over a slip.

Gold Jewelry

What's better than a gold moment? Nothing really, and KHOI is the proof. KHOI, a sculptural accessories brand, established in July 2022 by entrepreneur Hayet Rida. The latest jewelry collection, RAFIA, is divided into two perspectives: the nest and the cage— playing with fluid weaving techniques and structured cage-like elements. While the pieces may take different forms, they share the same foundation and raw materials.