G Herbo Says 'Avengers: Endgame' Is For 'Nerds,' And Fans Are Roasting Him
Thanos will not be happy...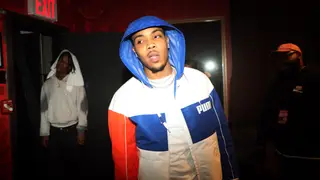 Judging by his latest video notice, it looks like superheroes aren't gang enough for G Herbo.
While the latest Marvel movie installment, Avengers: Engame, made history by bursting open the best-performing box-office weekend ever, GHerbo made it clear he was not a fan of the franchise. The Chicago rapper took to his Instagram stories to express his disregard for the mega superhero film, dismissing Avengers as just another "nerd" movie.
"That sh*t is for like lames—nerds," he said in the video. "All the good movies I hear about, bro, all the gangsta sh*t, all the year 2000 sh*t, all the super hard shit, I be on it, bro. Everybody who knows me know I'm a movie head, bro. nobody ever told me, 'Go watch Avengers, gang-gang.'"
It didn't take long before the internet took GHerbo up on the offer, and Black Twitter was sure to react to the rapper's rant:

The self-proclaimed movie buff then went on to invite fans to weigh in on his opinion and quite possibly change his mind on the film. "If I'm tweaking, let me know. [Because] I ain't tryna see that sh**." But despite his gripes with the film, it's evident that one non-fan didn't stop Marvel's show. Avengers: Endgame grossed an astonishing $1.2 billion worldwide for its opening weekend, including $350 million of those dollars domestically, marking it as both the biggest worldwide and nationwide movie opening in history, according to Variety. Endgame also marks the end of Marvel's 11-year "Infinity Saga" franchise.

Now that's what you call "Grand opening, grand closing!"