50 Cent Is Up For A Verzuz Match With The Game
"Okay, look. He can't play no records with my voice on them."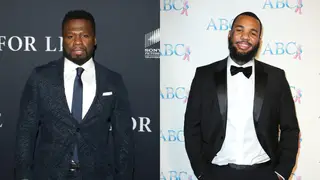 Though they have had their fair share of problems in the past, 50 Cent has revealed that he would be open to facing off against The Game in a Verzuz match. 
In a recent interview with radio personality Big Boy, the rapper said that the only Verzuz matchup that he could think of that would make sense would be with The Game. 
"Maybe Game," the rapper said when he was asked about any potential Verzuz battles that he could be a part of. "Okay, look. He can't play no records with my voice on them."
50 Cent continued, explaining why he wanted to do it. "As much as we argued and fought in the early stages, I would rather see him benefit from the momentum than someone else," he said. 
"He'll still be part of G-Unit and is going to be a part of the legacy overall," 50 Cent continued. "Even if you just want to concentrate on the break-up."
50 Cent and The Game's issues stretch back more than a decade when 50 Cent was reportedly disgruntled that his 2004 album The Massacre was pushed back to accommodate The Game's debut LP, The Documentary. 
The two released dissed tracks to each other for years afterward before ending their beef at a nightclub in 2016.
Check out 50 Cent's full discussion up above.