Rep. G.K. Butterfield Becomes the 24th Chairman of the CBC
North Carolina lawmaker outlines his agenda for 2015.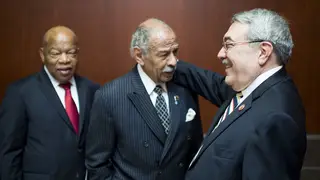 Rep. G.K. Butterfield is taking the helm of the Congressional Black Caucus during what could be described as both the best and the worst of times for African-American lawmakers on Capitol Hill. When they took the oath of office on Jan. 6, the CBC boasted a record 46 members, including freshman Rep. Mia Love, a Republican. Collectively, they represent more than 30 million people and make up 23 percent of House Democrats. Seven members are the ranking Democrats on key committees. But perhaps more important, the Republican Party now controls both chambers of Congress and holds a super-majority in the House.
Butterfield hopes that the CBC will be able to work with both political parties and President Obama to alleviate the persistent poverty and other disparities that plague communities across the nation, a majority of which he says are represented by Republican lawmakers. He is, of course, especially committed to lifting African-American communities.
"As we stand here now on the dawn of a new Congress, the 114th Congress, we must tell the full story — for many Black Americans, they are not even close to realizing the American dream. Depending on where they live, an economic depression hangs over their head and it is burdening their potential and the potential of their children. Black America is in a state of emergency today as it was at the turn of the century," the North Carolina lawmaker said in remarks delivered at the CBC's ceremonial swearing-in. It won't be easy, he acknowledges, and will require compromise by all sides.
"There will be times when I will encourage the CBC to reach across the aisle and try to reach some bipartisan deals that will not make us feel good, but will move the needle in our communities and communities of color," he told BET.com soon after he was elected to chair the Caucus.
Butterfield will not ask members to compromise on principles, however, and said there will be times when they may be required to obstruct or agitate on their constituents' behalf. Likening his leadership style to that of outgoing CBC Chairwoman Marcia Fudge, the North Carolina Democrat says, "I know when to fight and when to negotiate."
And there will be fights.
"America is not working for African-Americans and we, as the Congressional Black Caucus, have an obligation to fight harder and smarter in the Congress and help repair the damage," he told the audience.
Criminal justice reform will be a centerpiece of the CBC's agenda and the group will seek legislative action to reverse what Butterfield described as a "terrible trend" of excessive and deadly force. It also will address outdated sentencing laws and unethical prosecutors and work to ensure that criminal defendants receive competent counsel.
The CBC will continue its fight for targeted funding for persistent poverty communities. The plan calls for 10 percent of an agency's grants and discretionary spending to be directed to states where 20 percent or more of the population has been living below the poverty line for the past 30 years. It is a bipartisan issue that Butterfield says he hopes Republicans will be willing to work on with Democrats and the CBC.
Under his leadership, the CBC also will work to strengthen educational opportunities for African-American students and HBCUs and to restore Section 5 of the Voting Rights Act.
Butterfield also would like the CBC to form a network with national Black organizations so they can use their experiences and strengths to advocate on common goals. In addition, he plans to challenge Fortune 500 companies and corporations that receive government contracts to include more African-Americans on their boards, in management positions and the workforce and explore whether they are investing in underserved communities that make up a significant portion of their customer bases. The CBC will expose companies failing in these areas and insist on change, he said.
"We are ready for these fights. The fight for the future is not a Black fight. It's not a Democratic or Republican fight. It is a fight that all fair-minded Americans should promote," Butterfield said.  "We need to use political means, policy and legal means, to reduce racial disparities and move closer to that day when every American receives and realizes the American dream."
Follow Joyce Jones on Twitter: @BETpolitichick.
BET Politics - Your source for the latest news, photos and videos illuminating key issues and personalities in African-American political life, plus commentary from some of our liveliest voices. Click here to subscribe to our newslett
(Photo: Bill Clark/CQ Roll Call)