OutKast's 'Speakerboxxx/The Love Below' is Now the Best-Selling Hip-Hop Album of All Time
It is certified 13x platinum by the RIAA.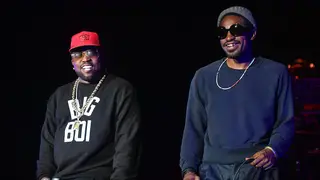 OutKast is regarded by many as the greatest hip-hop duo of all time, and their newest accolade certainly helps support that.
Just days after the Atlanta group celebrated the 25th anniversary of their third album Aquemini, their 2003 album "Speakerboxx/The Love Below" was certified 13x platinum, making it the best-selling rap album ever in the United States.
The certification means the duo has sold 13 million copies of the famed double CD. The project surpassed Eminem's "The Eminem Show," which was certified 12x platinum in 2022.
Big Boi took to Instagram to celebrate the milestone, posting a video of him unwrapping a framed plaque commemorating the 13 million sales of Speakerboxx/The Love Below.
"Over 13 Million albums sold…outkast is everlasting. Stank You Smelly Much…To All Y'all," he captioned the post.