Tracee Ellis Ross Serves Sexy Lace Look in Paris
The 50-year-old actress and producer has been serving looks during Paris Fashion Week.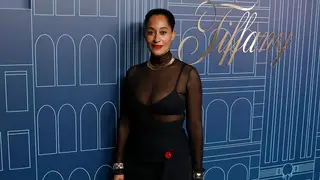 Tracee Ellis Ross  is living her best life during Paris Fashion Week. In a new set of photos on Instagram, the star shared how she put together a sexy all-black lace ensemble.
"I bought these @ysl lace pants a while ago," she wrote in the caption. "Never wore em. Couldn't figure em out. Then I bought this @prada lace dress and the stars aligned."
Mixing pieces in her closet, Ross wrote, "Paired with my #bottega pumps, @araksofficial bra & panty, old Prada earrings and old SL tux jacket and my gawd …I felt like a dream."
Ross continued, "And my gawd …I felt like a dream. Thank you Paris for giving this look a chic backdrop."
"The PURE JOY I get from playing in my closet and putting together a look!"
The fashionable star and Patterns Beauty founder has been serving sexy looks all week.
Earlier this week, she nearly broke the internet with a carousel of gorgeous looks from the Schiaparelli show. She captioned the pictures day and night and wore an oversized pantsuit in several pictures--including one where she used her arm to cover her bosom. In the other images, she wore a flattering black gown with a massive gold necklace.
Last month, Ross looked fabulous in a series of photos lounging on a bed in a pair of black pantyhose, matching sunglasses, and a lace bra; all the while, her curls were popping.
She posted the pictures with no caption letting them speak for themselves.