New Love & Hip Hop Cast Member Says He's Being Shunned for Being Gay
Milan Christopher believes rappers refuse to film with him.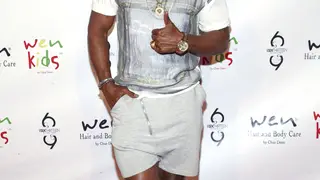 Ahead of its season two premiere, Love & Hip Hop: Hollywood is already involved in a messy scandal. Openly gay rapper Milan Christopher, who is the newest addition to the show, believes his fellow castmates — particularly the other MCs — are avoiding him due to his sexual orientation.
The rappers — and "sometimes rappers" — on the popular reality series include Soulja Boy, Omarion, Ray J and Mally Mall. Since Christopher began filming three weeks ago, the discrimination allegedly began. According to TMZ, a significant number of the rappers on the show are upset with producers not for hiring an LGBT-identifying rapper, but for hiring an MC who has "no cred" or "rap game." Reports say that they believe producers welcomed him on board as a "sideshow" and a "circus" to boost ratings.
Milan, though he has worked with well-known rappers in the game, has become mostly known for his abilities as a songwriter. He also actively pursues modeling in California.
At least three of the rappers on the series have apparently made it abundantly clear to producers that they will not film any scenes with Christopher, refusing to show up to parties or events where he is expected to be present.
While the rappers remain adamant in their reasoning that they want nothing to do with Milan strictly because of his lack of credibility, the rapper/model made it clear to producers the other MCs have made it obvious that they had a problem with his sexual orientation from the get go.
Find out how this all pans out on when season two of Love & Hip Hop: Hollywood premieres September 7 on VH1.

BET.com is your No. 1 source for Black celebrity news, photos, exclusive videos and all the latest in the world of hip hop and R&B music. 
Click here to enter the #LookYourSundayBest contest for a chance to win FREE natural hair-care products.
 (Photo: Rich Polk/Getty Images for Love is Louder)