See How Jordan Peele Made A UCLA Class's Day
The students were studying his film "Get Out."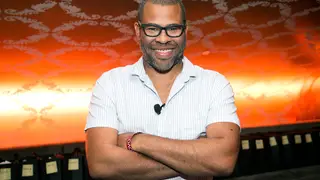 Jordan Peele's blockbuster film, Get Out, went on to break records left and right following its massive release. In fact, the box office smash managed to serve as inspiration in the Black Horror course at UCLA.
While the students enrolled in the course were under the impression that they were simply studying the genius director's work, they were in for a treat as he surprised them in the middle of Thursday's session.
The professor of the course, Tananarive Due, took to Twitter to explain the surreal moment. She recalled that it all started when she played a clip from the film for the class, and once the scene ended, she posed the question, "What do you think the director was trying to say about the coveting of Black bodies?"
What her students didn't expect, however, was the subject of her question being the actual respondent. Raising his hand in the back of the class was Peele, disguised in all black and rocking a hoodie. 
Needless to say, the class lost their cool once Peele revealed himself:
Get more Jordan Peele news with BET Breaks, above.