Rural Town In Pennsylvania Hires Tamir Rice's Killer As Its Lone Cop, Residents Are Outraged
City Council President Steve Hazlett shared the news and a photo of Rice's killer on his Facebook page, where he was met with outrage and opposition.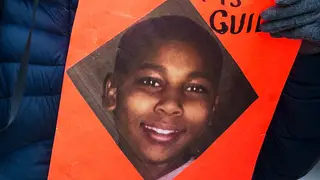 The former disgraced Cleveland cop who shot and killed 12-year-old Tamir Rice as he played at a park in 2014– has a new gig in law enforcement.
Timothy Loehmann was sworn in as the lone police officer in Tioga, Pennsylvania, on Tuesday (July 5,) according to WETM."Census records from 2020 reported that the borough has a population of 720 people with a 95% white population. The local news outlet revealed the now-34-year-old man was given the job during a borough meeting.
Tioga City Council President Steve Hazlett shared the shocking news and a photo of Rice's killer on his Facebook page, where he was met with outrage and opposition.
"Timothy Loehmann is your new Tioga police officer," he wrote.
The post garnered over 100 comments in opposition to Loehmann being offered a job in Tioga to serve and protect its citizens.
"You're that stupid? Did you and the rest of your boro leadership actually look into his background," Jeff Walker wrote.
Daniel Hill also sounded off as well. It was a year ago today that his appeal to the Ohio Supreme Court was denied, quashing any chance of him getting his badge back there... Then little Tioga goes and gives him one. He lost his first police job after being found unstable... His second he lost when it was found during an investigation, after he SHOT AND KILLED A 12-YEAR-OLD CHILD, that he LIED to get the job... And now round 3 is in Tioga... This needs to be stopped before there is another incident. "
Attorney Katie Enn said it plain,  "What's the point of doing this, Steve? To tell black people that you want them murdered in your town?"
Tioga Mayor David Wilcox, seemingly trying to distance himself from the controversy, claimed that he had no part in hiring Loehmann. He also thought the newly-hired  last name was  "Lochmann."
Early Thursday (July 7), he posted a video to Facebook with footage from the selection process, and Wilcox could be heard asking about his name. The footage also revealed that hiring Loehmann wasn't tedious– he simply needed to pass the physical exam.
"Please watch this clip to understand who I thought Borough Council was hiring.  Picture of reading oath of office was shared by President of Council during or just after the meeting. Why were we NOT made aware of the last name change?"
Wilcox also vowed that since he made the schedule, Loehmann would, in essence, never work, WETM reported.
Since Tamir's death, the disgraced cop relentlessly tried to get reinstated as a cop in Cleveland, even though he was never charged with his murder. "The Ohio Supreme Court shut him down after his attorneys filed an appeal last July.