Decoding The Dopest Lyrics From Pusha T's 'It's Almost Dry'
The Virginia rapper's fourth studio album is a pure, uncut masterpiece.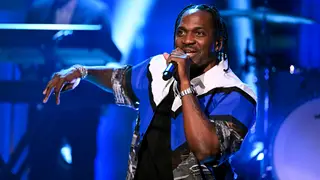 Spring has sprung and more music is thawing out for listeners to enjoy and be enthused about.
When it comes to the rapper's fourth studio effort, the Virginia native has gone from teasing it from his cushy pads to delivering a hype train of summer tour announcements, a bicoastal listening party, and a new, incendiary single featuring Jay-Z.

Now with It's Almost Dry available for all ears to hear, the Van Gogh of Pure, White Snow has made good on his promise of having one of the best albums of the year. Over 12 tracks — split in half between longtime friends and producers Kanye West and Pharrell Williams — King Push leaves nary a smart reference to drugs off the table while upping the ante for other rappers to follow.

To delve into his fourth album, BET.com attempts to decode some of the most dopest lines not only for nosetalgia, but to posit that Pusha T is one of hip hop's most gifted (and vividly descriptive) MCs to ever touch the mic.
Brambleton

It was sad watching dude in Vlad interviews

Really it's 'bout me, he channeled it through you

Had a million answers, didn't have a clue

Why Michael kissed Fredo in Godfather II

On "Brambleton," the first song on It's Almost Dry, and a street in Norfolk, Va., where Push's late mother used to work as a pharmacist technician during the rapper's early life, Pusha described the subliminal jabs lobbied in his direction from a mysterious "dude." It's no secret that Drake used an interview featuring Push's brother, No Malice, as ammunition during the pair's back-and-forth in 2019. 

But this is not that. Instead, the dude refers to Anthony "Geezy" Gonzales, Push's former manager, and how he felt after watching his infamous 2020 VladTV interview. In it, Geezy talks about managing The Clipse and his own drug-dealing past, which is considered code-breaking in Pusha's eyes, as the line "Had a million answers, didn't have a clue / Why Michael kissed Fredo in Godfather II," signifies that Geezy didn't have any honor or respect in "The Family" anymore.

Dreamin' Of The Past

I was bored by these albums so it gotta be time

No reward for the latter, so it gotta be mine (I was dreamin' of the past)

Huff and Puff in the club, then I gotta be Shyne

On "Dreamin' Of The Past," produced by Kanye West, and featuring a nice back-and-forth between him and yasiin bey (the former Mos Def), Pusha and his rap cohorts reminisce over luxurious moments from their life that past versions of themselves never thought they would experience. 

In verse three, Virginia's favorite trap lover expressed how bored he was with the rest of the rap game, and figured that would be the best moment to return with some new product to sell. The "Huff and Puff" line references the 1999 club shooting by former Bad Boy artist turned Belize House of Representative politician, Shyne.

Neck & Wrist

The money counter ding is so exciting

Summertime, Winterfell, I'm the Night King

The Colgate kilo, the hood needs whitening (Skrrt)

We fish scale niggas like we all Pisces

Your b***h in my bubble like I'm still typing

The third single from It's Almost Dry also marks the third time that Pusha T and Jay-Z connect to deliver white line-laced lyrics that would make even the nerdiest keyboard warrior think they're Scarface's Tony Montana. And yes, while Hov showcases an all-assault on those trying to put salt on his name, it is Push who makes being a drug dealer sound so plush and lucrative.

 From tying in Game of Thrones into the game of street life with the Night King reference to showing how much of a Zodiac Killer he is when it comes to pushing that snow, the Pharrell Williams-produced cut proves just how much these "cocaine rap legends" have not lost a step.

Diet Coke

Missy was our only misdemeanor

Nike box hold a hundred thou' with no insoles, uh

The crack era was such a Black era

How many still standin' reflectin' in that mirror?

It's Almost Dry is a work of art, which makes Pusha T hip hop's Shakespeare in a wholly cool way. On "Diet Coke," which was the lead single from the fourth album, Push keeps it two-up, two-down in paying homage to not only Missy Elliott but how much P was being pushed during the late '80s and throughout the 1990s. 

The beat, originally intended to be an interlude for 88-Keys beat tape, The Making of Crack Cocaine, was produced in 2004, according to Genius, which makes it around 18 years before "Diet Coke" was even a thing.

Call My Bluff

Sometimes I wish my fanbase was more like J. Cole's

But dope boys gotta be the men like they know

How many more car faxes must get exposed?

Imaginary shipments, fictitious payloads

You should listen to them on the platforms they on

The villains, the killings, no ceiling, I yawn

Niggas acting like we can't pop up, hey Yon

We specialize in not getting locked up, Akon

Pharrell and Pusha get back into their Lord Willin' vibes on "Call My Bluff," which also boasts work from super engineer Mike Larson. To be frank, the line about LeBron James ("We only in the sport to be LeBrons / When you used to Platinum, that gold be bronze.") is fuego, but the admission from Pusha T that he wishes his fanbase was more like J. Cole's is an introspective bar that you'll find littered throughout It's Almost Dry. 

Add in the impressive brags and card-pulling from Push — i.e. the CarFax barb, "fictitious payloads" — and this song screams "IYKYK" for anyone really traveling up and down that I-95.

Kevin L. Clark is a screenwriter and entertainment director for BET Digital, who covers the intersection of music, film, pop culture, and social justice. Follow him on @KevitoClark.