Michael B. Jordan Apologized To His Mother For Viral Underwear Ad
The actor posed for Calvin Klein's Spring/Summer 2023 campaign.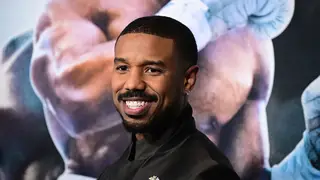 Michael B. Jordan's campaign for Calvin Klein's Spring/Summer 2023 may have broken the internet, but the 36-year-old had to apologize to his mother.
On the red carpet for Creed III, Jordan told Entertainment Tonight, "I was like, my mama gon' have to see this. Let me call her and be like, 'I'm sorry. It's out here.' My business [is] all out in the streets -- literally."
Nonetheless, he is proud of the campaign, especially with it being released during the promotion of Creed III, which hits theaters on March 3. "This was like, a moment, you know? Just to have everything come together at one time, it feels great. And to be able to share that moment with my other actors, who are having a moment of their own as well, it just feels special. It feels like everything is happening at the right time."
The campaign was shot by iconic photographers Mert & Marcus, see below: