Keke Wyatt Explains Why She Probably Won't Hire A Nanny For Baby No. 11!
The pregnant singer-songwriter and her husband are excited about expanding the "Wyatt Bunch."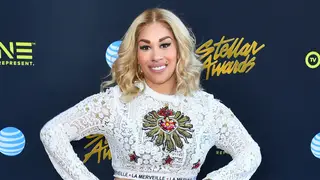 Keke Wyatt loves being a mom! Just last week, the mom-of-ten proudly announced to the world that she's expecting her 11th child.
"My husband, Zackariah David Darring, and I are proud to announce that our family will be adding a 'plus 1' to the Wyatt Bunch," the pregnant recording artist captioned lovely maternity photos on Instagram that showed off her growing baby bump.
In a separate post, Wyatt shared two family pictures of the "Wyatt Bunch."
This makes baby no. 2 for the couple who married in 2018. 
While chatting with US Weekly, the publication asked if she has any plans to expand her family. The songstress—that describes herself as "a pro at pregnancy"—explained that she wouldn't mind welcoming a 12th in the future.
"Well, my hunnie, [Zackariah Darring], can wear a ['Last One'] shirt all he wants, [but] I have learned never say never," Wyatt said, referencing her husband's shirt in the family portrait above. "So we shall see. OK!"
The working mom went on to reveal that her husband is "very happy" about the bundle of joy on the way. 
Wyatt went on to share the following about her parenting method, "I am very hands-on with all my children. I am really only comfortable with my family. I have tried all the nannies and everything. It just wasn't my cup of tea."
At this time, the couple is still working to finalize their baby's name. As for the baby's gender, Wyatt teases that fans will learn that soon.
Will a boy or a girl be joining the Wyatt Bunch? We're not sure, but we're definitely anxiously awaiting the gender reveal!