Pregnant Sudanese Woman Sentenced to Death for Her Faith
Meriam Ibrahim of Sudan was sentenced to an execution after refusing to recant her Christian faith. The pregnant 26-year-old was convicted of "apostasy" on May 11.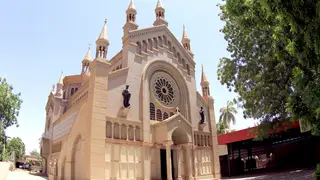 KHARTOUM, Sudan (AP) — A pregnant Sudanese woman who married a Christian man was sentenced to death Thursday after she refused to recant her Christian faith, her lawyer said.
Meriam Ibrahim, whose father was Muslim but mother was an Orthodox Christian from Ethiopia, was convicted of "apostasy" on Sunday and given four days to repent and escape death, said lawyer Al-Shareef Ali al-Shareef Mohammed.
The 26 year old, who is eight months pregnant, was sentenced after that grace period expired, Mohammed said.
Amnesty International immediately condemned the sentence, calling it "abhorrent." The U.S. State Department said it was "deeply disturbed" by the sentencing and called on the government to respect the right to freedom of religion.
Mohammed, the lawyer, called the conviction rushed and legally flawed since the judge refused to hear key defense witnesses and ignored constitutional provisions on freedom of worship and equality among citizens.
Ibrahim and Wani married in a formal church ceremony in 2011 and have a son, 18-month-old Martin, who is with her in jail. The couple runs several businesses, including a farm, south of Khartoum.
Sudan's penal code criminalizes the conversion of Muslims into other religions, which is punishable by death.
As in many Muslim nations, Muslim women in Sudan are prohibited from marrying non-Muslims, though Muslim men can marry outside their faith. By law, children must follow their father's religion.
Sudan introduced Islamic Shariah laws in the early 1980s under the rule of autocrat Jaafar Nimeiri, a move that contributed to the resumption of an insurgency in the mostly animist and Christian south of Sudan. An earlier round of civil war lasted 17 years and ended in 1972. The south seceded in 2011 to become the world's newest nation, South Sudan.
Sudanese President Omar Bashir, an Islamist who seized power in a 1989 military coup, says his country will implement Islam more strictly now that the non-Muslim south is gone.
A number of Sudanese have been convicted of apostasy in recent years, but they all escaped execution by recanting their new faith. Religious thinker and politician Mahmoud Mohammed Taha, a critic of Nimeiri and his interpretation of Shariah, was sentenced to death after his conviction of apostasy. He was executed in 1985 at the age of 76.
Mohammed said he intends to appeal Ibrahim's conviction.
"The judge has exceeded his mandate when he ruled that Meriam's marriage was void because her husband was out of her faith," Mohammed told The Associated Press. "He was thinking more of Islamic Shariah laws than of the country's laws and its constitution."
He said Ibrahim's Muslim father left her mother when she was a child and her mother raised her as a Christian.
The court in the capital, Khartoum, also ordered that Ibrahim be given 100 lashes for having what it considers sexual relations with her husband, Daniel Wani, a Christian from southern Sudan who has U.S. citizenship, according to the lawyer and judicial officials who spoke on condition of anonymity in line with regulations. Wani was acquitted of a charge of harboring an apostate, according to another defense lawyer, Eman Abdul-Rahim.
Wani fled to the United States as a child to escape the civil war in southern Sudan but later returned, she said.
Amnesty called the sentence a "flagrant breach of international human rights law."
"The fact that a woman could be sentenced to death for her religious choice, and to flogging for being married to a man of an allegedly different religion, is abhorrent and should never be even considered," Amnesty said in a statement, quoting its Sudan researcher, Manar Idriss.
Ibrahim's case first came to the attention of authorities in August, when members of her father's family complained that she was born a Muslim but married a Christian man.
They claimed that her birth name was "Afdal" and that she changed it to Meriam. Mohammed said the document produced by relatives to show she was given a Muslim name at birth was a fake. Ibrahim refused to answer Judge Abbas Khalifa when he called her "Afdal" during Thursday's hearing. Meriam is a common name for Muslims and Christians alike.
"I was never a Muslim. I was raised a Christian from the start," she said.
Authorities first charged her with having illegitimate sex last year but she remained free pending trial. She was charged with apostasy and jailed in February after she declared in court that Christianity was the only religion she knew.
BET Global News - Your source for Black news from around the world, including international politics, health and human rights, the latest celebrity news and more. Click here to subscribe to our newsletter.  
(Photo: Ashraf Shazly/AFP/Getty Images)