'Power' Star Rotimi Addresses Rumors That He's The Father Of 'Love & Hip Hop' Star Erica Dixon's Twins
The reality star has been refusing to share the identity of her babies' daddy.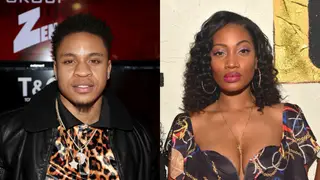 Rumors have been swirling regarding whether Rotimi is the father of his ex Erica Dixon's twins ever since she announced she's expecting.
The former Love & Hip Hop: Atlanta star has refused to inform the public who the twin's father is, so it's been left up to social media sleuths to do their research. That led many to believe Rotimi is the father to the point that the Power star had no choice but to take to social media to address the rumors.
Rotimi recently posted a pic of himself, and a commenter flat out asked, "Are you going to be a dad?," to which another commenter replied, "I'm glad somebody asked." The Power star apparently saw this and he replied, "Not at all. #FakeNews."
He wasn't the only one shutting down the speculation. Erica Dixon herself cleared her ex of being her twins' father. Under a video she posted of herself noticeably pregnant, a commenter wrote, "Are you really pregnant by Rotimi?" To which Dixon replied, "False info."
We guess fans of the couple will have to wait until Erica Dixon confirms who the real father is — if she ever decides to. She's reportedly, and rightfully, more focused on welcoming her babies into the world very soon.