Some Officers Looking to Body Cameras on Their Own
Some police are advocating for wearable cameras, but departments will need to figure out how to pay for them.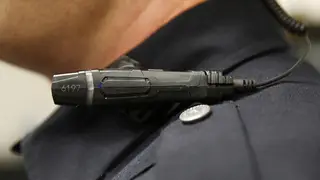 NEW RICHMOND, Ohio (AP) — The dramatic body camera video shows the slaying suspect charging at the officer, screaming — pleading, even — for him to open fire.
"Shoot me!" yells Michael Wilcox to the backpedaling officer, who keeps the suspect at bay until he ultimately surrenders when backup arrives.
The widely circulated video from Officer Jesse Kidder's own personal body camera illustrates not only the kind of life-or-death moments officers can face, but also how some in law enforcement are getting cameras on their own if their departments can't.
| SEE WHAT'S HAPPENING IN FERGUSON, MO. |
While some police around the country have balked at the use of body cameras, saying they would subject them to an unreasonable level of monitoring, interest in supplying them to officers is growing. Studies of camera use by police in Rialto, California, and Mesa, Arizona, showed steep declines in citizen complaints and in use of force by officers.
In the Ohio village of New Richmond, where Kidder's restraint last week in the face of a potentially deadly suspect has drawn wide acclaim, police chief Randy Harvey said the video shows why he'd like to have the wearable cameras for all his officers. But he needs to figure out to pay for them, an issue for many departments, large and small.
"It's all out there for everybody to see — it eliminates any questioning or second-guessing or speculation as to what really occurred," said Harvey, a police officer for more than three decades who said he "believes in my heart" that the vast majority of officers act with similar judgment.
Kidder had spotted the fleeing suspect and followed him in his police cruiser from the Ohio River village of some 2,500 people to an eastern Cincinnati suburb. Dispatchers had told him Wilcox could try to force a "suicide by cop" after his girlfriend was found dead. The tense encounter was recorded on a camera a family member had given Kidder in the aftermath of the violent protests that broke out in Ferguson, Missouri, last year after an officer fatally shot a black 18-year-old.
Now hundreds of departments are trying them out and buying them — if they can pay hundreds of dollars for each device and the additional expenses they will have to incur — and President Barack Obama is pushing a $75 million plan to help buy 50,000 body cameras for police.
"It's just an added safeguard to the public and an added layer of accountability for our officers," said Capt. Jim Sizemore of the Fayette County, West Virginia, sheriff's department, which was introduced to body cameras when an individual deputy bought his own, wanting to document his policing and protect against false accusations.
Sizemore said colleagues were impressed with the deputy's results, so the sheriff used discretionary budget funds to buy seven more, and local government officials have since agreed to buy an additional 20. He said the department is still working on how to control data storage and other related costs that can run into the millions for large departments.
In Cleveland, where police have been sharply criticized by residents and federal authorities for alleged excessive use of force, chief Calvin Williams told city council last year that many officers were using their own body cameras or cellphones to record public interactions. Council approved funds to equip officers this year.
Officers from tiny Munroe Falls in northeast Ohio to Austin, Texas, have also bought their own cameras. KEYE-TV reported this week that 25 Austin officers have their own. Officer Marcos Johnson told the station that his camera's recording recently belied a suspect's claim that Johnson had repeatedly used a stun gun on him.
Despite the apparent benefits of personally supplied cameras, a Justice Department study in partnership with the Police Executive Research Forum recommended against allowing offers to use their own.
Body cameras supplied by the officers themselves create new problems, such as lack of department control of the video — including their potential editing or public release — and privacy rights of citizens who are recorded.
Taser International, the stun gun maker that has seen demand for its body camera systems soar with revenue nearly tripling in 2014, said it has sold 586 individual body cameras, although it can't say how many buyers were police officers. Spokeswoman Sydney Siegmeth said such cases as the New Richmond officer's fuel interest among officers who want to be able to show they have acted appropriately.
Kidder, a Marine veteran of the Iraq War, told WLWT-TV that he wanted to "absolutely sure" before using deadly force against Wilcox.
Wilcox, 27, is being held in Brown County Jail on $2 million bond. A public defender assigned to him Monday for a hearing that was continued said she hadn't talked with him. Police in northern Kentucky were also investigating him in connection with a slaying last week, but haven't named a suspect in that case.
Harvey said this week that Kidder was back to his regular duties, including serving as a school resource officer.
"He doesn't look at himself as a hero," Harvey said.
BET National News — Keep up to date with breaking news stories from around the nation, including headlines from the hip hop and entertainment world. Click here to subscribe to our newsletter. 

(Photo: George Frey/Getty Images)